Powering Innovation For a Circular Future at Circular Shift 2023
Hosted at The Current, Chelsea Piers in New York City on 10 October, the Circular Shift 2023 summit convened over 100 sustainability leaders and pioneers to power innovation for a circular future. The event was proudly presented by the Cradle to Cradle Products Innovation Institute.
Key takeaways
A wide range of industries and sectors was represented, with brands and manufacturers from the built environment, fashion and textiles, beauty, household products, as well as policymakers, NGOs, designers and the finance sector. Throughout the day's tangible exploration of approaches and strategies to innovate for a circular future, a renewed urgency to create meaningful change at scale became apparent. New disruptive solutions and collaborative initiatives hold promising prospects to be replicated and reach scale. Together with ambitious new legislation and enabling tools like our Cradle to Cradle Certified® certification, they will be the ones to propel the circular shift forward. 
Keep reading for a breakdown of the day's sessions.
Creating change in organizations
In the day's first expert interview, George Bandy Jr., Chief Sustainability Officer at Fiber Industries, shared lessons about leading change on sustainability. He provided insights from his own experiences, offering a combination of strategic mindsets and practical examples to bring about change. George was interviewed by our Institute's CEO Elwyn Grainger-Jones. George Bandy Jr. is a global leader in environmental sustainability, circular economy and social responsibility with more than 25 years of experience in this field. He has been responsible for executing the comprehensive concepts and practices of sustainability for multinational corporations and NGOs.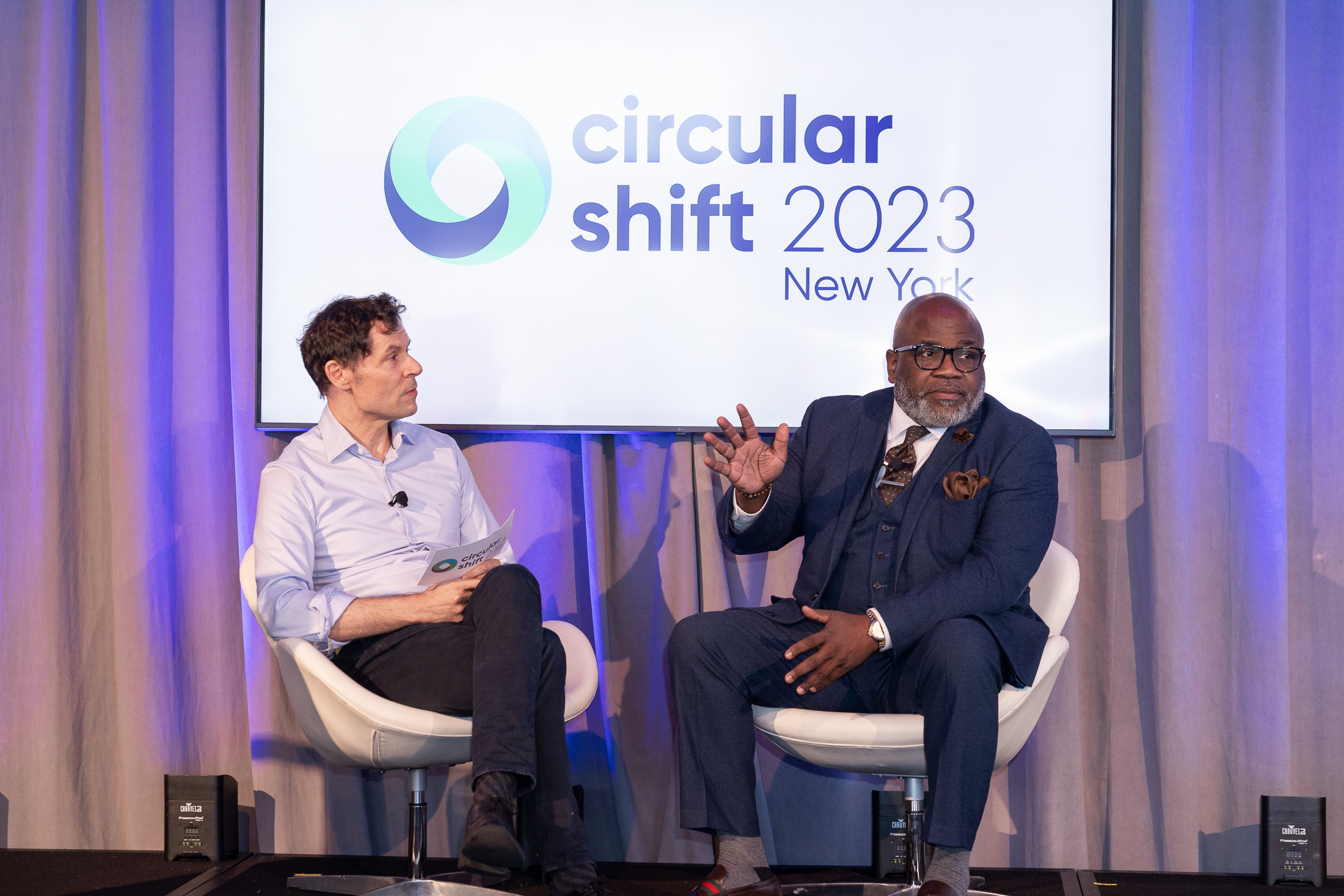 Cradle to Cradle in 2050 – beyond sustainability and circular economy
Next, we dove into where circularity is today and where it is heading. In his keynote address, Michael Braungart shared his reflections about the evolution and future of the Cradle to Cradle framework. He reminded the audience that a mindset that challenges shortsighted solutions and considers a problem strategically and comprehensively is the driving force behind business and industry transformations that aim for a positive impact.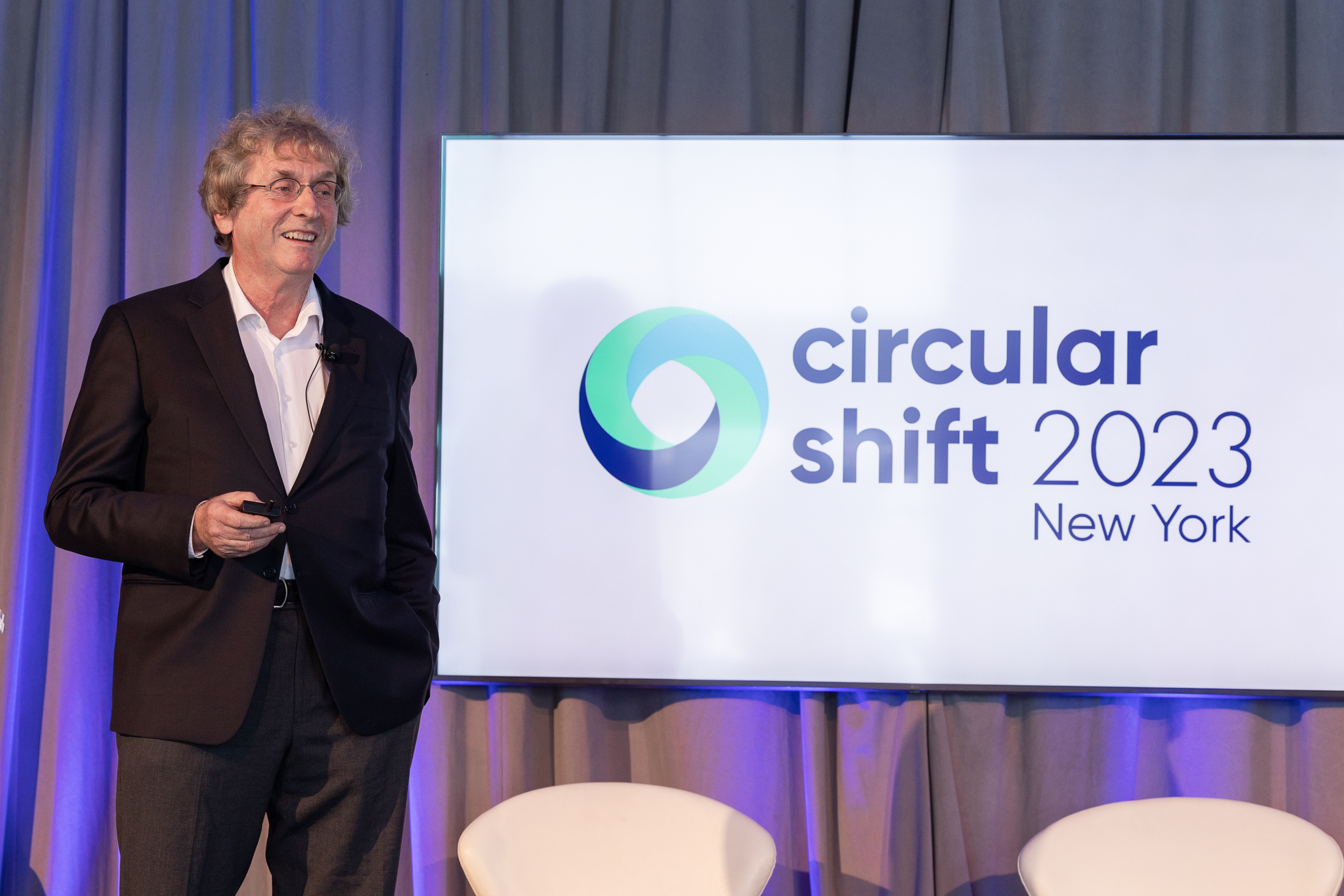 As a chemist, Michael has been researching and advising on circularity since the early 1980s for products that not only reduce harm to people and nature but instead have a positive impact. Together with the American architect William McDonough, Michael developed the Cradle to Cradle® design framework. They published "Cradle to Cradle: Remaking the Way We Make Things" in 2002, followed by "The Next Industrial Revolution: The Cradle to Cradle Community" in 2008. Laying the foundation of the Cradle to Cradle Products Innovation Institute as co-founders, which has since evolved into a community of 500+ companies across 5 continents with 70,000+ certified products.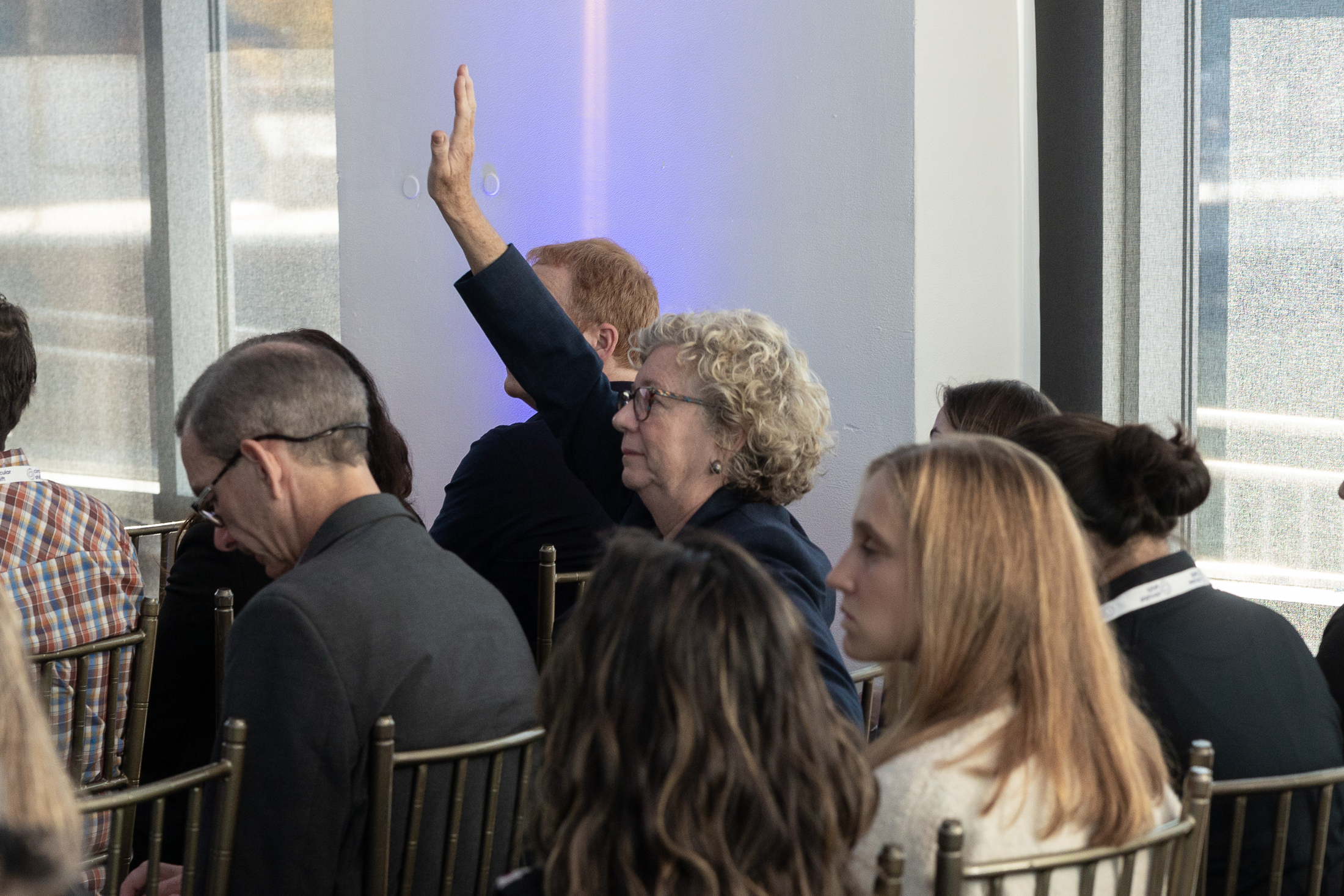 Innovation Catalysts: Cradle to Cradle Certified as a framework for innovation
For the morning's first panel conversation, three pioneering companies shared their stories of innovation, and how adopting the Cradle to Cradle Certified framework is helping them achieve circular transformation. The conversation was moderated by our Institute's Apparel, Textiles & Footwear Lead Nienke Steen and featured Roxane Spears, Vice President of Sustainability at Tarkett North America, John Mascari, Co-Founder and COO of Blueland, and Hannes Schoenegger, Co-Founder and CEO of QWSTION and Bananatex®.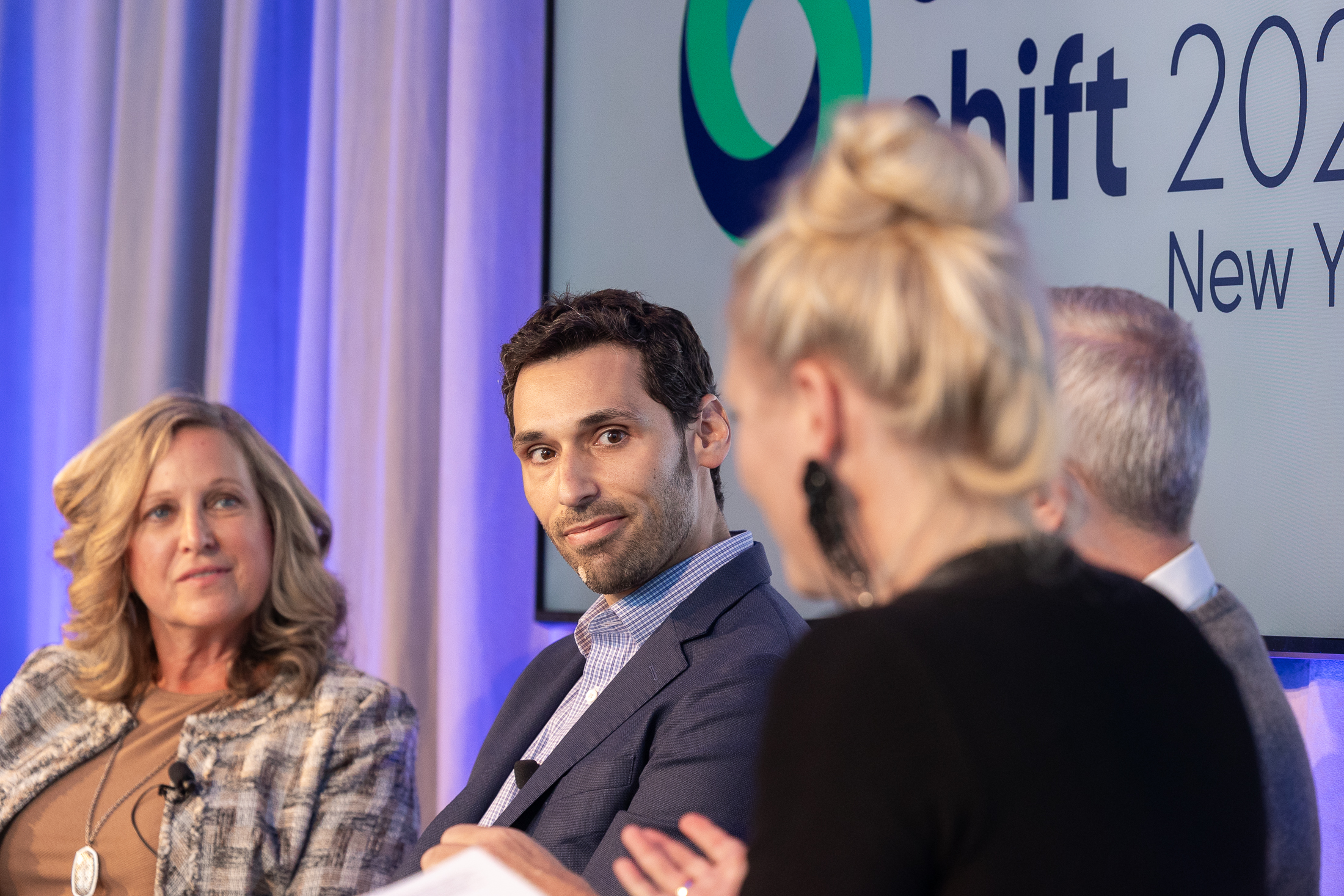 The road to net zero
Following, Eddy Santosa took the stage for an expert interview in which he shared insights on how embodied carbon reporting and the transformation to net zero is shaping the built environment. As a top expert in his field, Eddy has more than fifteen years of experience in sustainable design and the building industry, currently supporting global management, engineering and development consultancy Mott MacDonald. Eddy is involved in establishing sustainability strategies, energy efficient strategies and passive design analyses for many projects in the USA and around the world.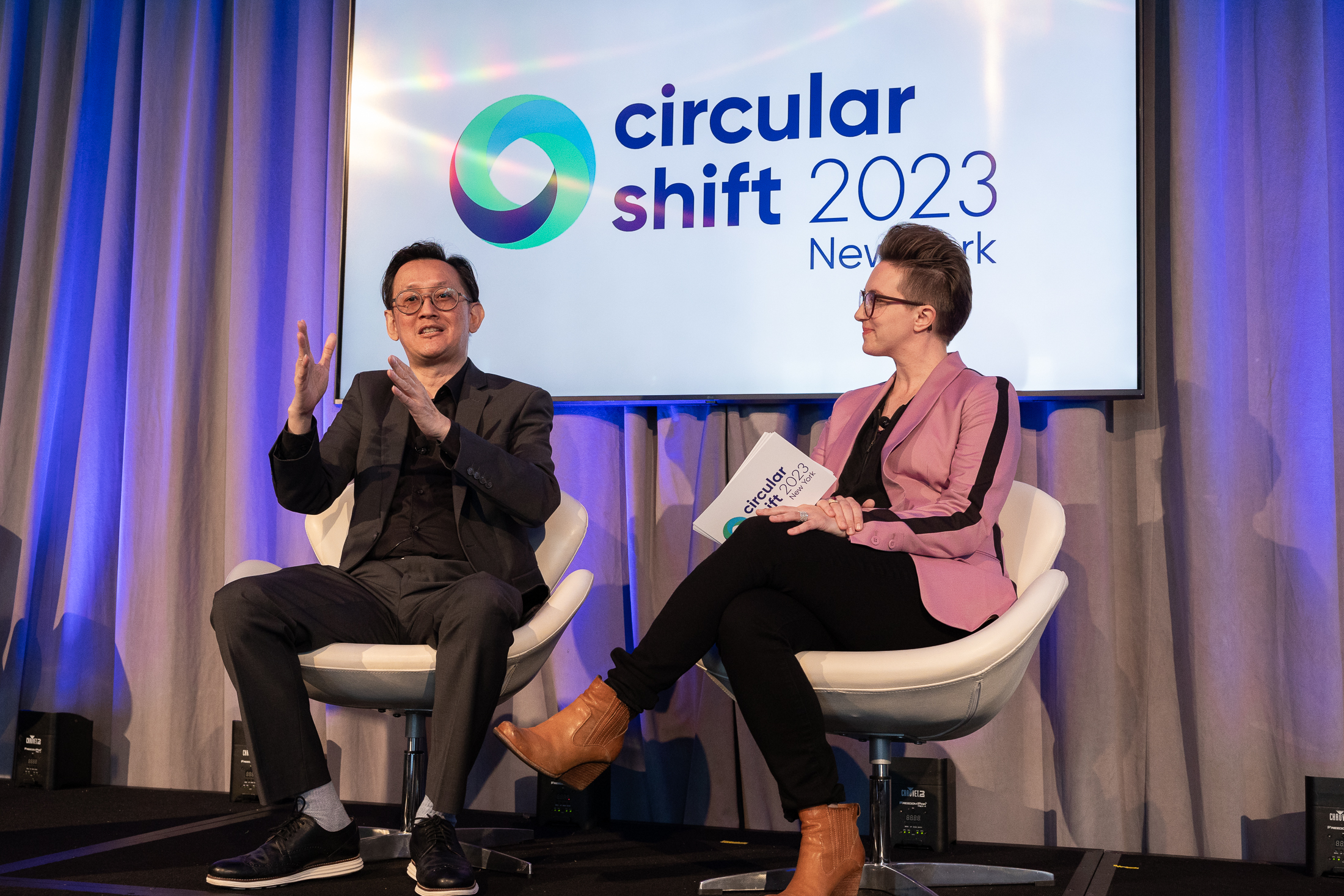 What are consumers thinking?
In the day's second keynote address, Jason Walters from global insights and advisory consultancy GlobeScan explored the key factors that matter most to consumers in sustainability. He shared fresh findings from the Healthy and Sustainable Living, and The Climate & Nature Nexus studies, emphasizing that certifications play a key role in building consumer trust, making Cradle to Cradle Certified particularly relevant in this discussion. Jason advises companies and NGOs on sustainability strategy and programs, stakeholder engagement, and cross-sector collaboration. He has led GlobeScan's shared research programs on Navigating the Nature Agenda and The Climate & Nature Nexus with more than 30 participating companies.

Legislation driving the circular shift
Next up, Anna Kelles of the New York Assembly shared insights on the way sustainability is shaping US legislation and New York's Fashion Act. As the lead sponsor of the Fashion Sustainability and Social Accountability Act, she explained how this legislation will require fashion sellers to be accountable to standardized environmental and social due diligence policies. Anna is a champion of climate change solutions, natural resource preservation, criminal justice reforms, and housing affordability and accessibility, representing the 125th District in the New York Assembly.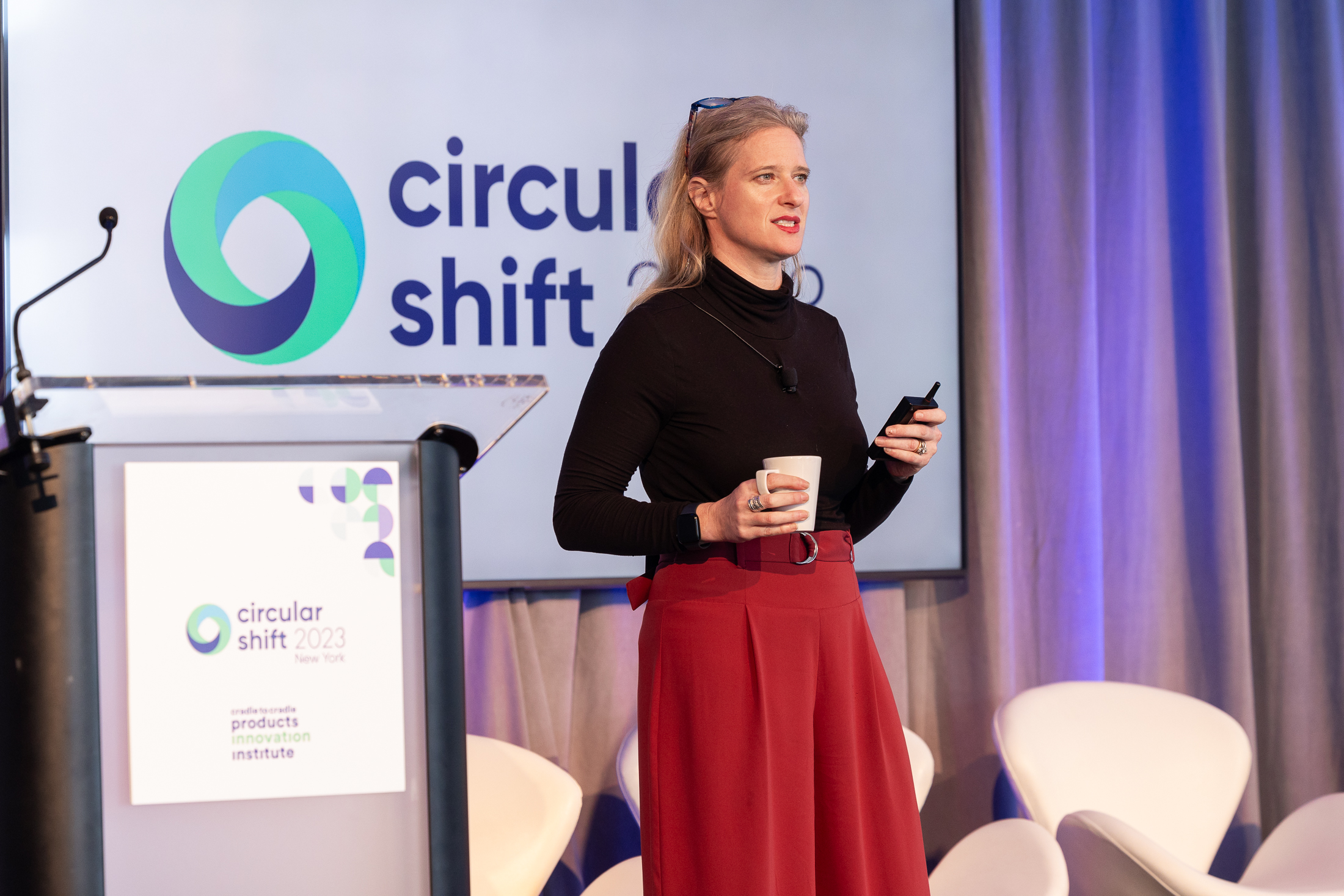 New initiatives driving large-scale market transformation
During the second panel conversation, three experts from different fields shared what they see coming up in legislation, the digital space and ESG reporting. The conversation was moderated by our Institute's Director of Marketing & Communications Angela Antolini, and featured panelists Bente Bauer, Co-Founder of 2BPolicy, Natasha Franck, Founder and CEO of EON, and Nora Rizzo, Ethical Materials Director at Grace Farms Foundation. The panelists stressed that new initiatives leading large-scale market transformation need to be embedded and integrated, through new partnerships and approaches.

The value of circular product development in practice
The third panel conversation focused on lessons and insights from three leading companies creating value through circular practices in their respective businesses. Moderated by Ren DeCherney, our Institute's Built Environment Lead, it featured Candi Hampton, Director of Sustainability at Shaw Industries, Chris Van de Voorde, Founder & CEO at JUUNOO, and Nicole Cerroni, Vice President of Sustainability at L'Oréal USA.

Climate activism and circularity
Actress, writer, producer and environmental advocate Daniella Pineda rounded the day off with a keynote address sharing her perspectives about climate activism and circularity. She reminded the audience that the Cradle to Cradle Certified framework and the companies embracing it play an essential leading role in achieving a better future for our planet, a role that responsible citizens around the world are counting on.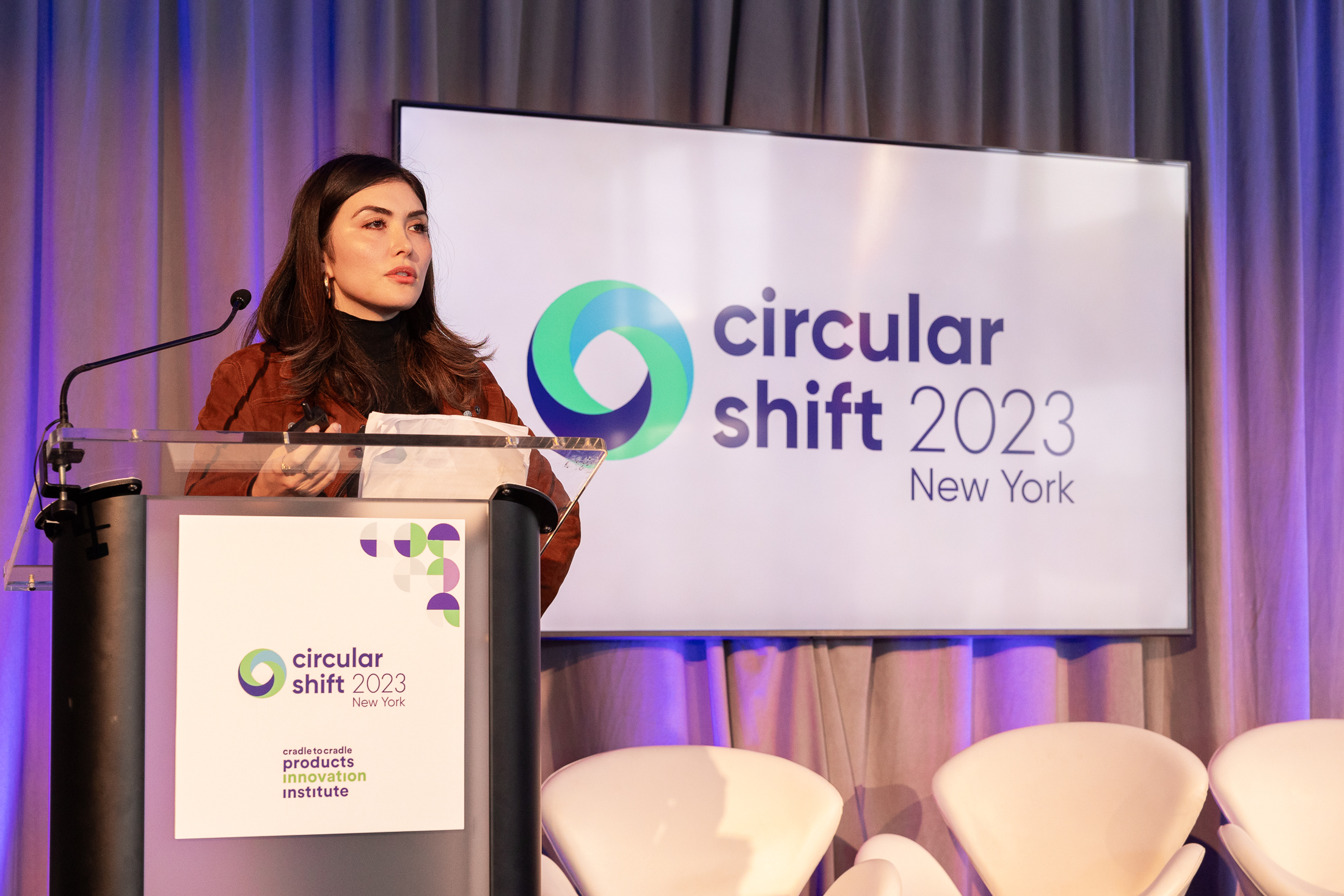 Community networking
Over the course of the day, we featured a diverse program of both inspirational and interactive sessions. All attending international and local thought leaders and sustainability frontrunners enjoyed the opportunity to network and continue the knowledge exchange throughout the day during the breaks and facilitated breakout sessions.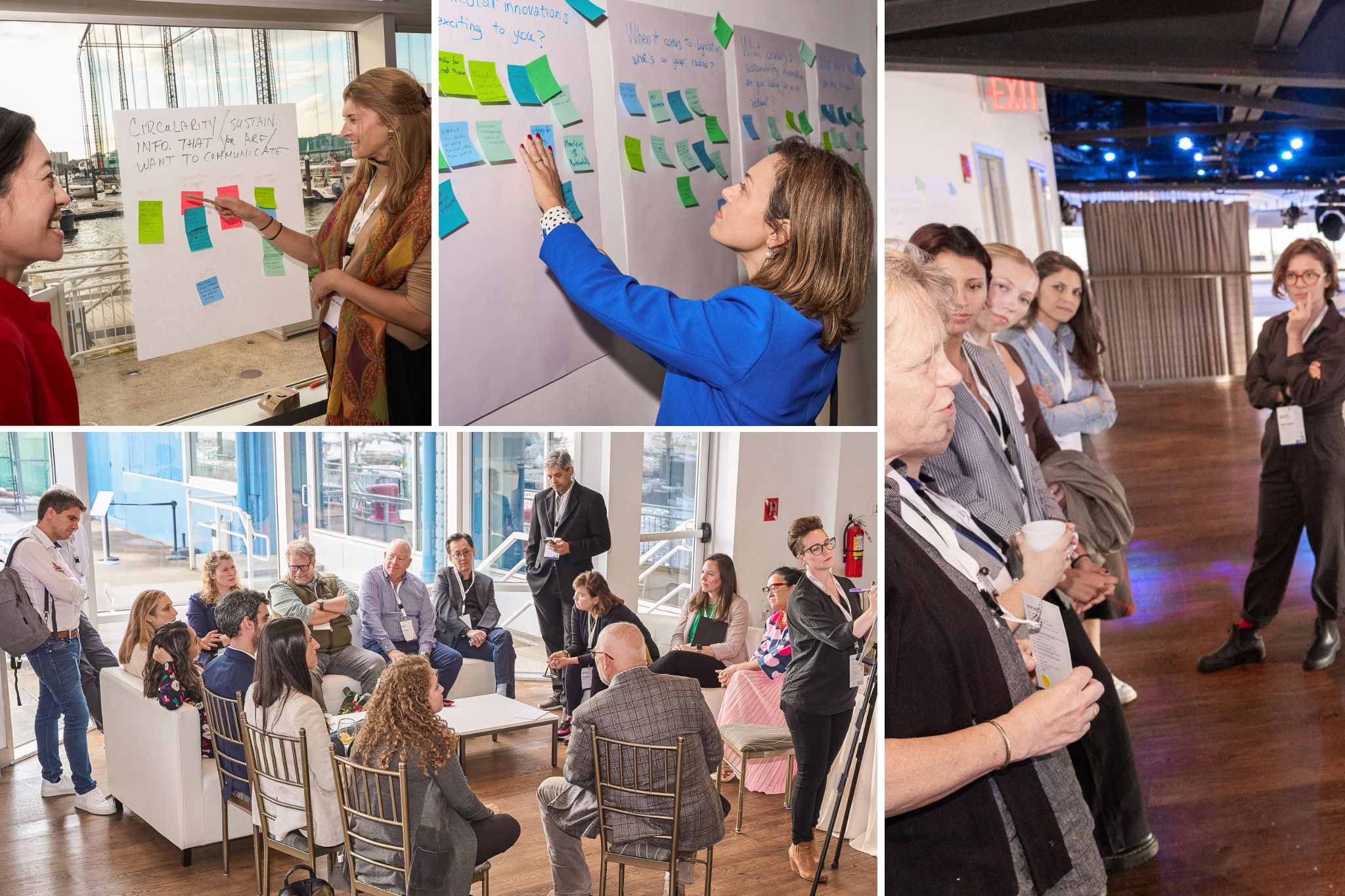 The lunch buffet at Circular Shift 2023 was generously sponsored by Tarkett.