Reimagining cleaning products without single-use plastic packaging
Sarah Paiji Yoo is the CEO and Co-Founder of Blueland, the U.S. cleaning and personal care company which is reimagining products to eliminate single-use plastic packaging. 
Blueland products are designed as a reusable, refillable system that have helped divert over 1 billion single-use plastic bottles from landfills and oceans. At Blueland, products are designed to make it easy to cut down on plastic waste while also carefully choosing and sourcing ingredients. Several of Blueland products have achieved either full Cradle to Cradle Certified® or the C2C Certified Material Health Certificate™, with more products in the pipeline.
Sarah Paiji Yoo is a serial retail entrepreneur passionate about sustainability and innovation. We asked her a few questions to learn more about Blueland. 

Could you please tell us about Blueland's vision and its history?
Blueland is reimagining conventional household products to eliminate single-use plastic and make it easy to be eco with innovative, tablet-based refillable products designed to be mixed with household tap water – saving consumers money, space, and waste. With nearly 40 patents-pending, our innovative products have diverted nearly 2 billion single-use plastic bottles from our landfills and oceans. 
About Blueland's history… When I was transitioning from breastfeeding to formula-feeding my oldest son, I began doing research and was horrified to learn how many microplastics are in both our tap water and bottled water.  I was deeply concerned about using this water to make my son's formula and, as a result, I decided to reduce my personal plastic consumption and then founded Blueland with the mission to reduce plastic waste from the products we reach for the most.

What is the greatest opportunity for the household and personal care sector to deepen and expand its sustainability actions?
The greatest opportunity lies in the fact that everyone needs, uses, and replenishes these products… Everyone washes their hands. Everyone washes their dishes. With Blueland, every decision we make is done with our core mission in mind — to eliminate single-use plastic packaging and help create a more sustainable planet for ourselves and future generations.
Packaging is the largest generator (46%) of all plastic waste, and the personal care industry is among the largest producers – creating more than 120 billion units of packaging every year globally. If we were to reuse just 10% of those products, we could prevent almost half of the annual plastic ocean waste. When we are able to create products that people truly love to use, and feel passionately about making a part of their everyday lives, that's where the true opportunity lies. When we can change and shift these habits and eliminate single use plastics long term, we can change the world.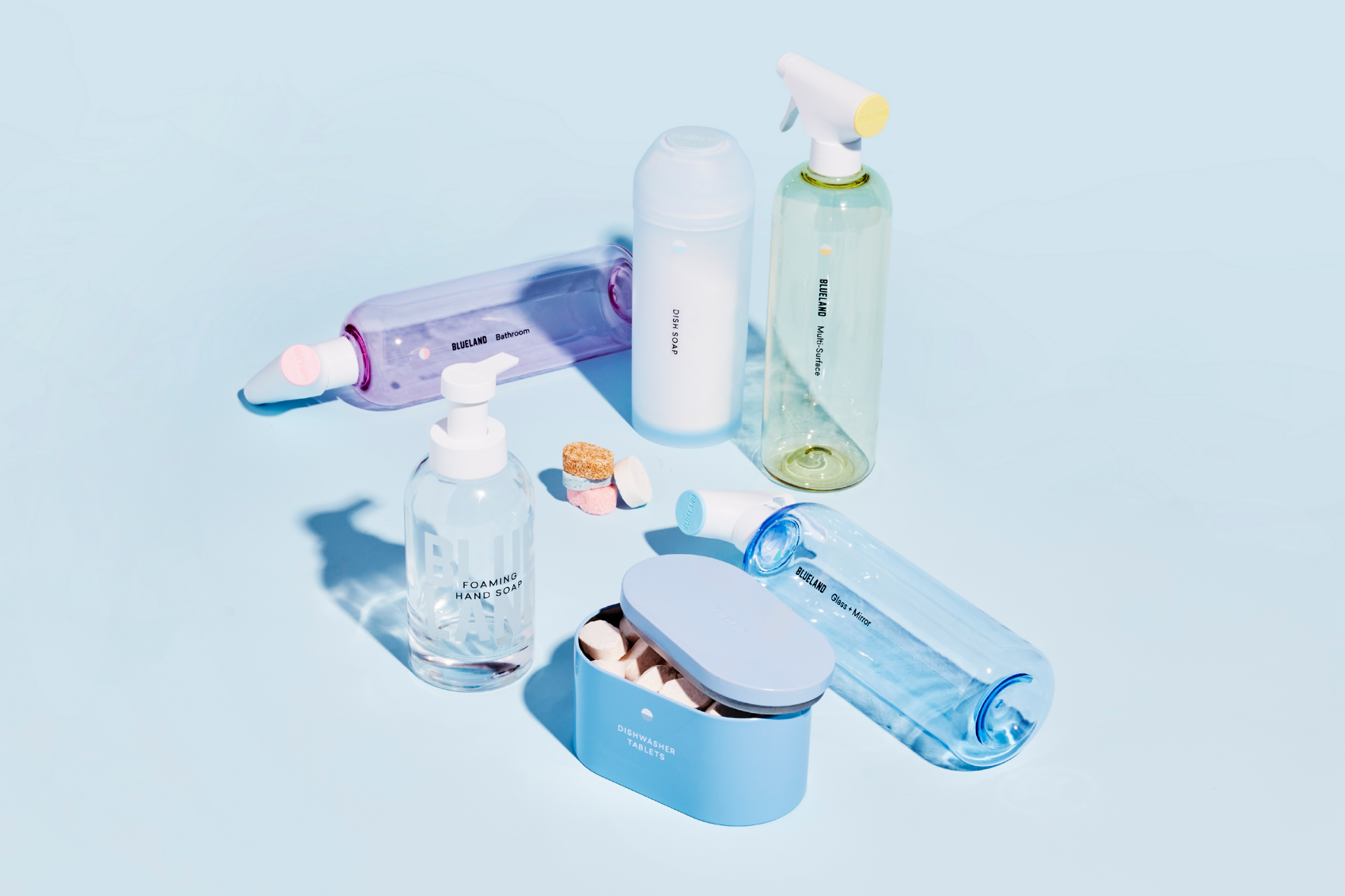 How is Blueland making a contribution?
Aside from our products, this year, we were incredibly proud of our petition to the U.S. Environmental Protection Agency (EPA) to prohibit the use of plastic film (PVA) in consumer packaged goods like detergent pods or sheets. We requested the EPA: 1. Do extensive health and environmental tests of PVA, and 2. Update its status on the EPA Safer Choice List until testing is complete. Each year, an estimated 20 billion plastic-wrapped laundry and dishwasher pods are used in the U.S. and sent into our waterways.
The single-use plastic wrapping is a petroleum-based plastic called Polyvinyl Alcohol (also known as PVA or PVOH) that dissolves, but doesn't biodegrade. Instead, the plastic particles go down our drains and are ultimately released into our oceans, rivers, canals and soil eventually making their way into our water and food supply. Like microplastics, this plastic film has the potential to absorb dangerous chemicals and contaminants, antibiotics, or heavy metals at high concentrations and then work their way up the food chain into human food and water sources. 
Research shows that over 75% of intact plastic particles from these laundry and dishwasher pods are released into our waterways. Why? Because the conditions needed to completely degrade this plastic are extremely specific and don't exist in most wastewater treatment facilities. As one of the most widely used cleaning formats, plastic pods, have the potential to become a ubiquitous pollutant in the future if not immediately stopped.
Within the first 48 hours of launching the petition, we had hit our goal of 10,000 signatures and our video went viral. 


What is the role of Cradle to Cradle Certified in achieving change and closing the gap towards the sustainable circular future we want to achieve?

Blueland has worked closely with Cradle to Cradle Certified since our founding. Our journey to Platinum Material Health started with the book Cradle to Cradle: Remaking the Way We Make Things. Before Blueland was Blueland, my co-founder John and I had made commitments to devote our careers to the environment — not to join or start a company with environment lumped into a broader CSR or ESG platform, but to only work for and with companies that truly have, at their core, a commitment to working with the resources of this planet.
We were drawn to the idea that consumers don't have to sacrifice and that we can continue to "live in abundance" if we work with the resources of the planet — being deliberate and rational about how to use and reuse in closed productive systems versus promoting throw-away culture and exploiting resources. 
In all respects of bringing our cleaning & personal care products and vessels to market, Blueland is committed to the Cradle to Cradle Certified approach and program across Material Health, Material Reutilization, and Energy Management. For us, designing and innovating with Cradle to Cradle Design at the forefront means that the framework is as central to our development process as is product-market fit, production feasibility and cost — and all of that is consistent with why Blueland exists. 
Blueland will never be a company that thinks about human and environmental health second and we hope that is the future direction for all other businesses as well. Starting every development process with Cradle to Cradle Certified at the forefront goes hand-in-hand with our reason for being and our unwavering commitment to completely upending the consumer packaged goods industry so that consumers can enjoy products that work with the planet's resources, are optimized for the health of people and environment, and are also effective, affordable and beautiful. It is our hope that if we can do it, we can show how this framework can be modeled across the industry at all levels.


___
Additional information
Prior to Blueland, Sarah was a Partner at LAUNCH, a leading startup studio, and launched and operated several consumer brands including M.Gemi, Rockets of Awesome and Follain. She was previously co-founder and CEO of Snapette, the largest mobile platform for local fashion shopping, which was sold to leading e-commerce platform Pricegrabber in 2013. Sarah most recently was featured on Shark Tank's 11th season and has contributed to The Wall Street Journal, TechCrunch, Forbes, Time, InStyle and Glamour. She attended Harvard College and Harvard Business School and currently lives in New York City with her sons Noah and Colin, and husband Ken.