Leaders demonstrate circular transformation at the Institute's summit in Amsterdam - Circular Shift 2022
Hosted at the innovative landmark building Capital C in Amsterdam on 8 June, the Circular Shift summit convened over 130 leaders to share inspiration and demonstrate novel practices for the transition to circular systems and sustainable business models. The event was proudly presented by the Cradle to Cradle Products Innovation Institute.
AMSTERDAM, The Netherlands, June 2022 - Representation from a wide range of industries and sectors was present, with brands and manufacturers from the built environment, fashion and textiles, beauty, household products and consumer electronics, as well as policymakers, NGOs, designers and the finance sector.
Creating the next moonshot moments
The first keynote speech by Stephan Grabmeier, Future Designer at the Zukunftsinstitut, engaged the audience in a quest to imagine scenarios that create inspiration for present and future generations, by targeting the next "moonshot moments" of history. He shared latest megatrends findings and argued that sustainable companies constantly keep track of changing societal and economic dynamics and deliberately transform their business practices on an ongoing basis.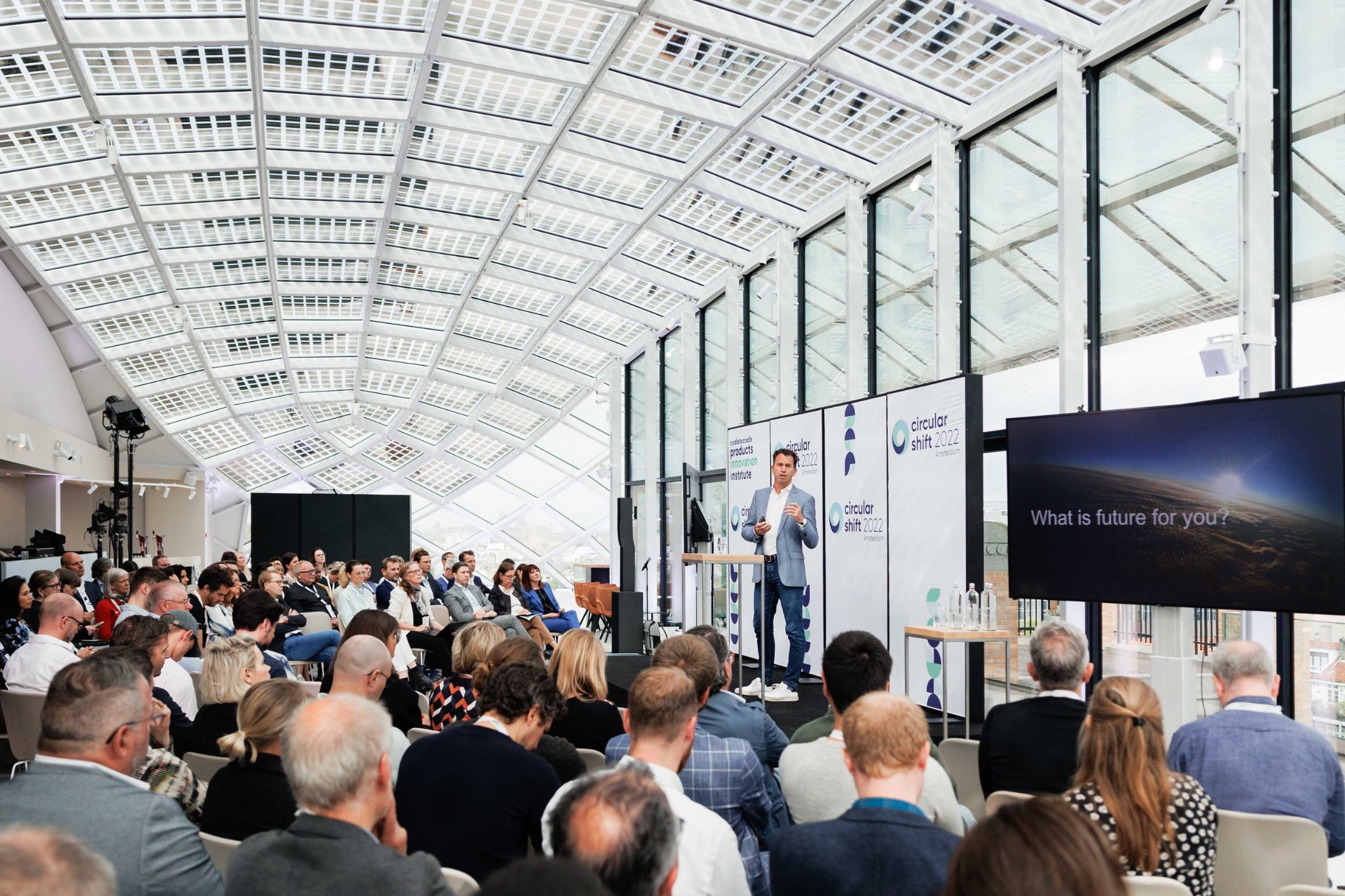 Bringing emerging clean technologies to commercial scale                             
In her keynote speech, Nancy Gillis, Program Head, Climate Action & First Movers Coalition at the World Economic Forum, presented the First Movers Coalition, an ambitious buyers' club to scale emerging decarbonization technologies across hard-to-abate sectors through early demand signals. The current initiatives include ground-breaking purchasing commitments from the aluminum, aviation, shipping, steel, and trucking carbon removal sectors, aiming to advance the supply of green technologies.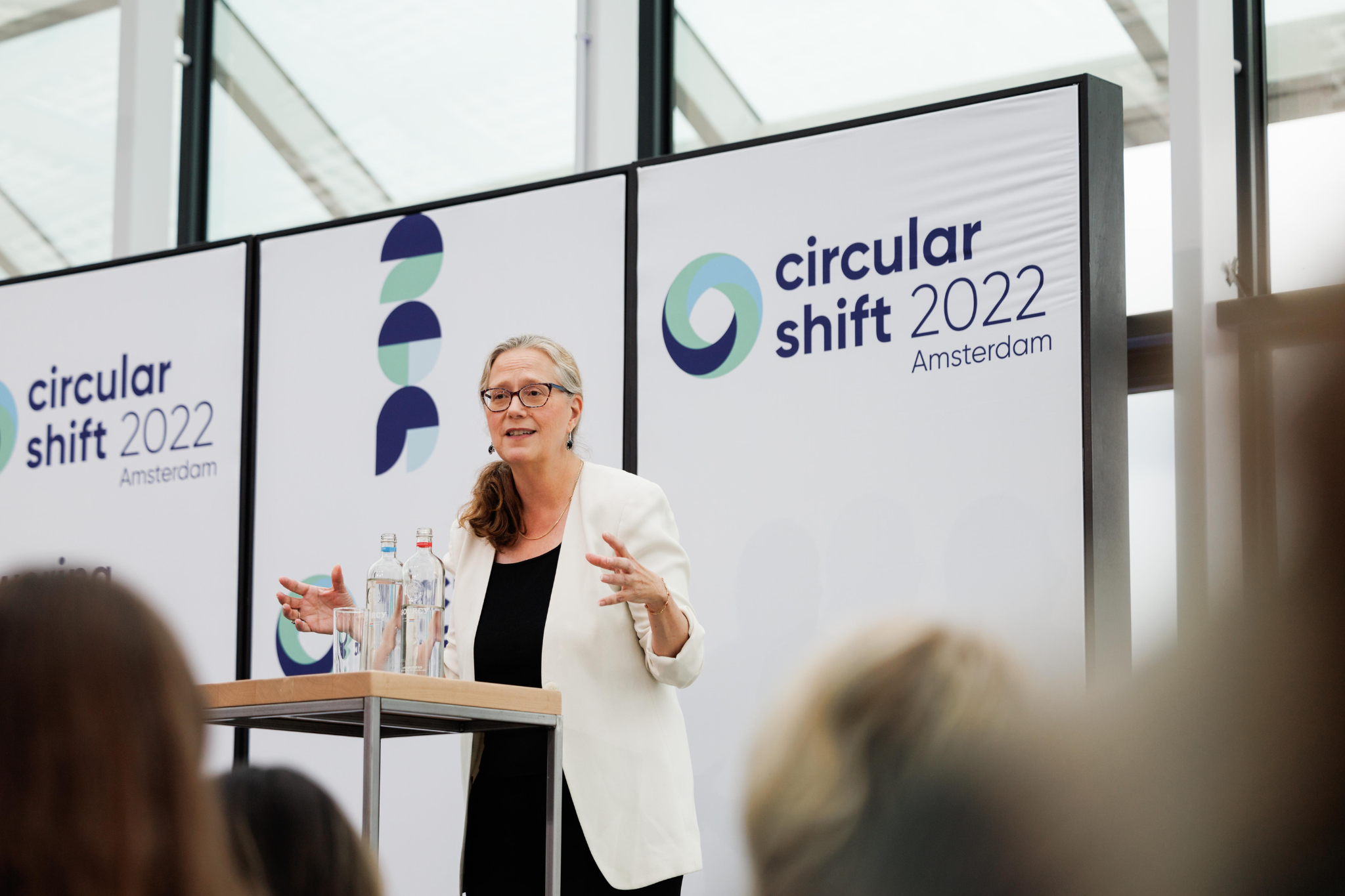 Enlightening conversations
The Institute's President and CEO, Christina Raab, hosted a series of conversations by inviting inspirational guests to the stage throughout the day. The first conversation with Tijn van Elderen, CEO of Dutch company Brabantia, authentically demonstrated how this family owned business is embracing circularity and prepares its 5th family generation for a sustainable future.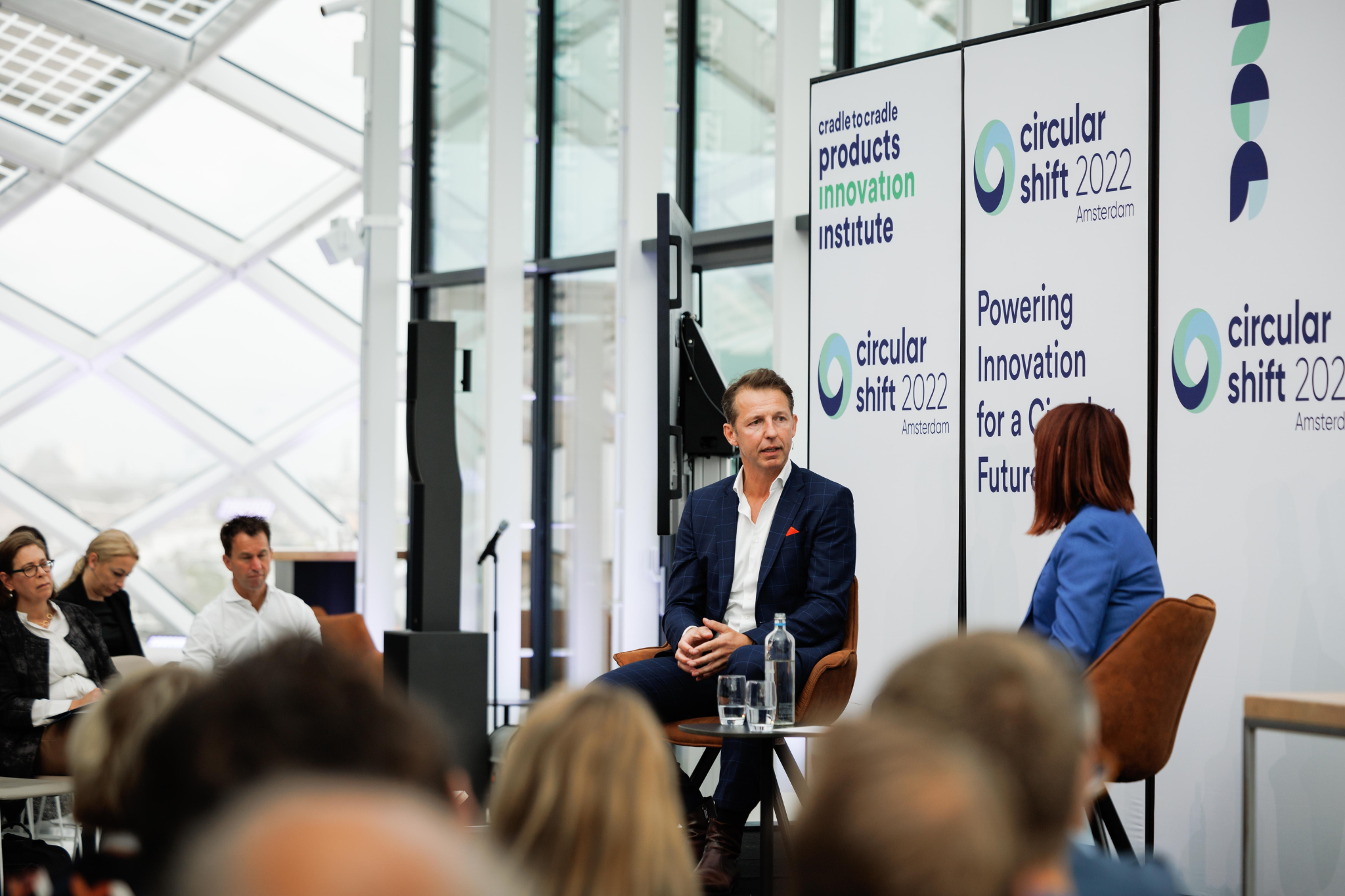 The second conversation saw Rives Taylor, Principal / Co-Director of Design Resilience at leading design and architecture firm Gensler, share a refreshing perspective about the role of building design for taking impactful climate action and creating sustainable living spaces for the future.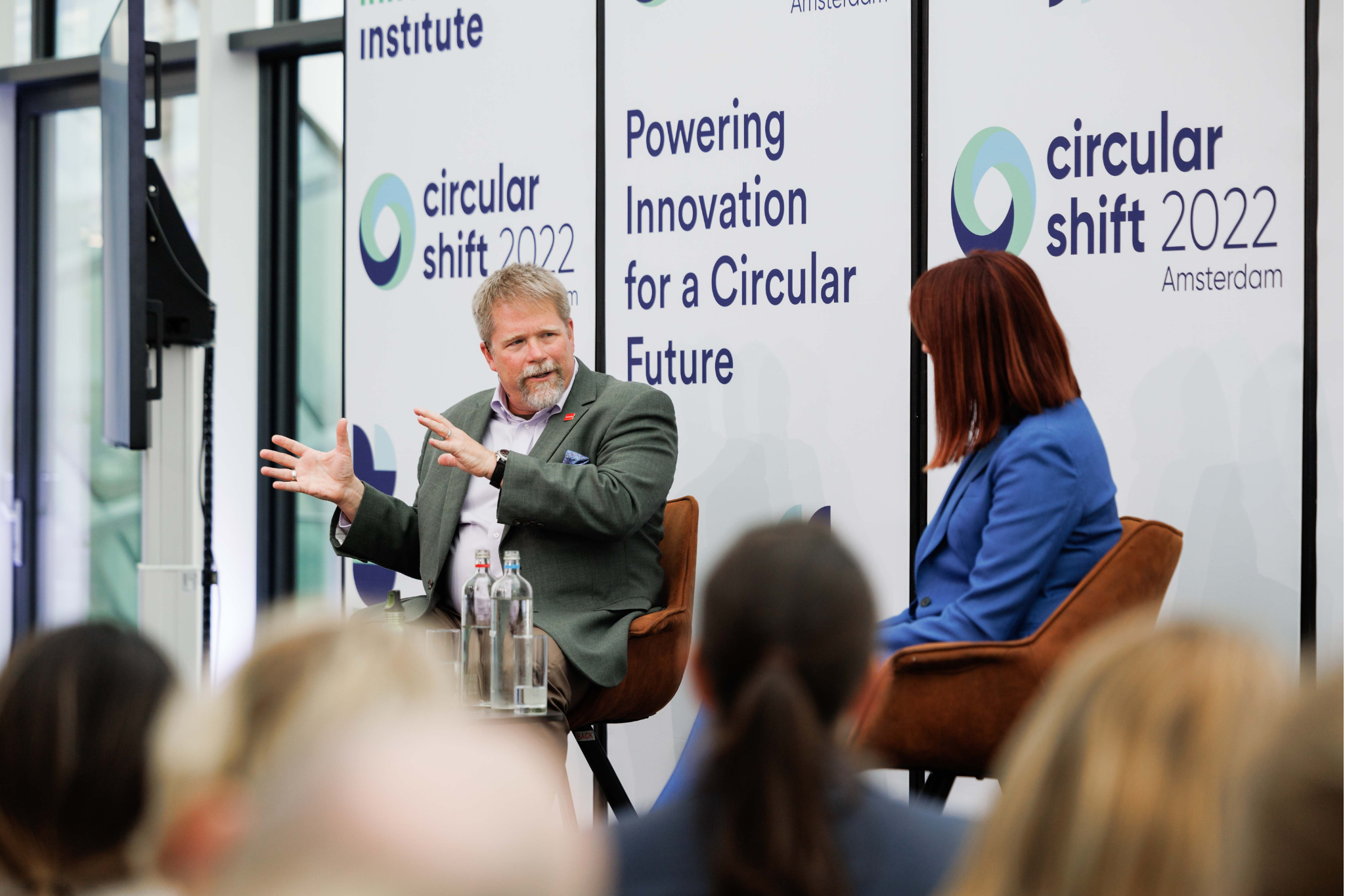 Marissa Pagnani McGowan, Chief Sustainability Officer, North America, at L'Oréal, was the third conversation partner and spoke about concrete examples of how large multinationals can scale their sustainability efforts and adopt Cradle to Cradle Certified across multiple beauty brand portfolios.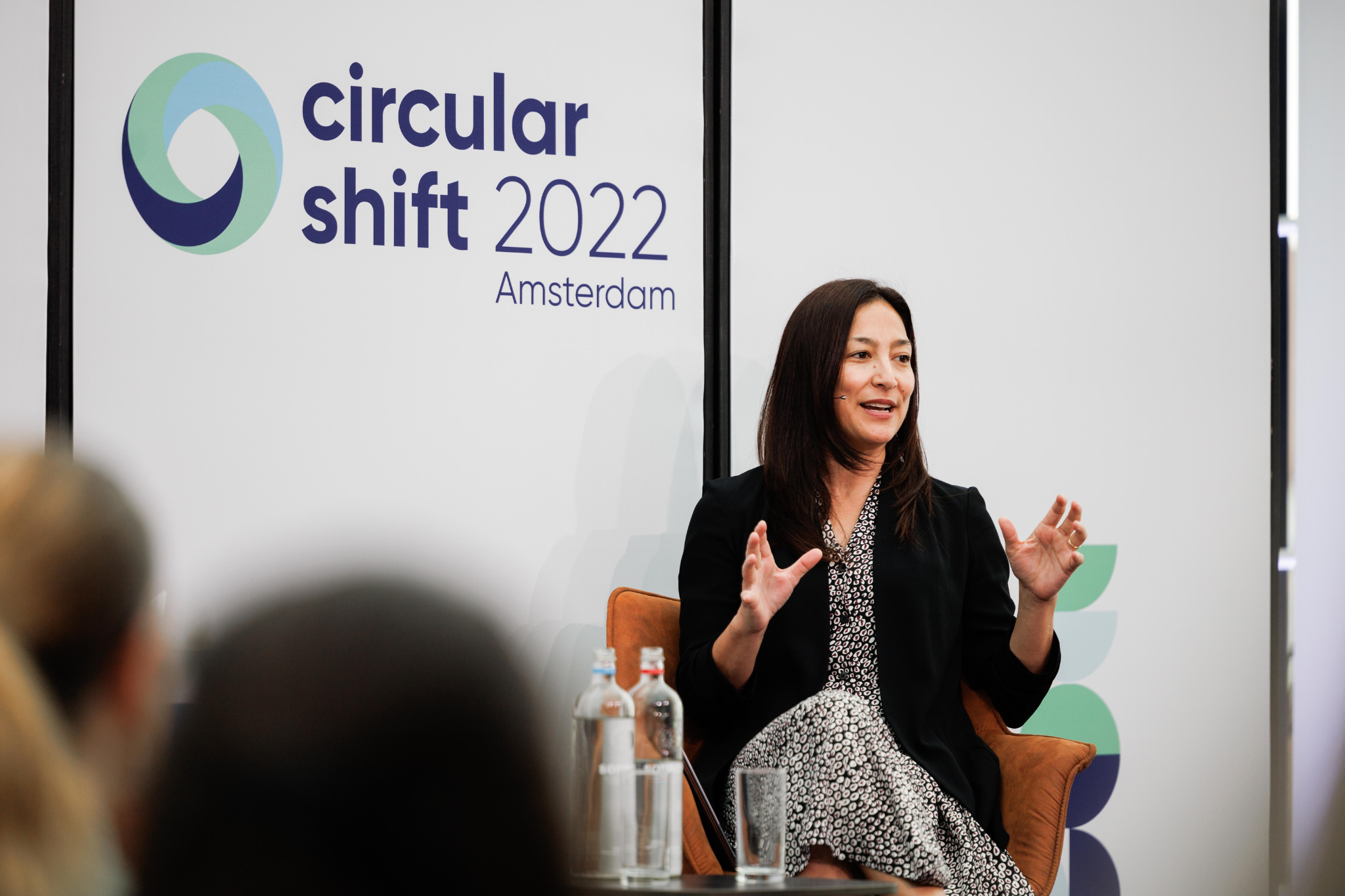 Finally, Jo Chidley, Founder of start-up company Beauty Kitchen, joined the Circular Shift stage to demonstrate that "no one is too small to make a difference", and shared the story of how her company is creating ripple effects across the beauty industry through disruptive packaging systems.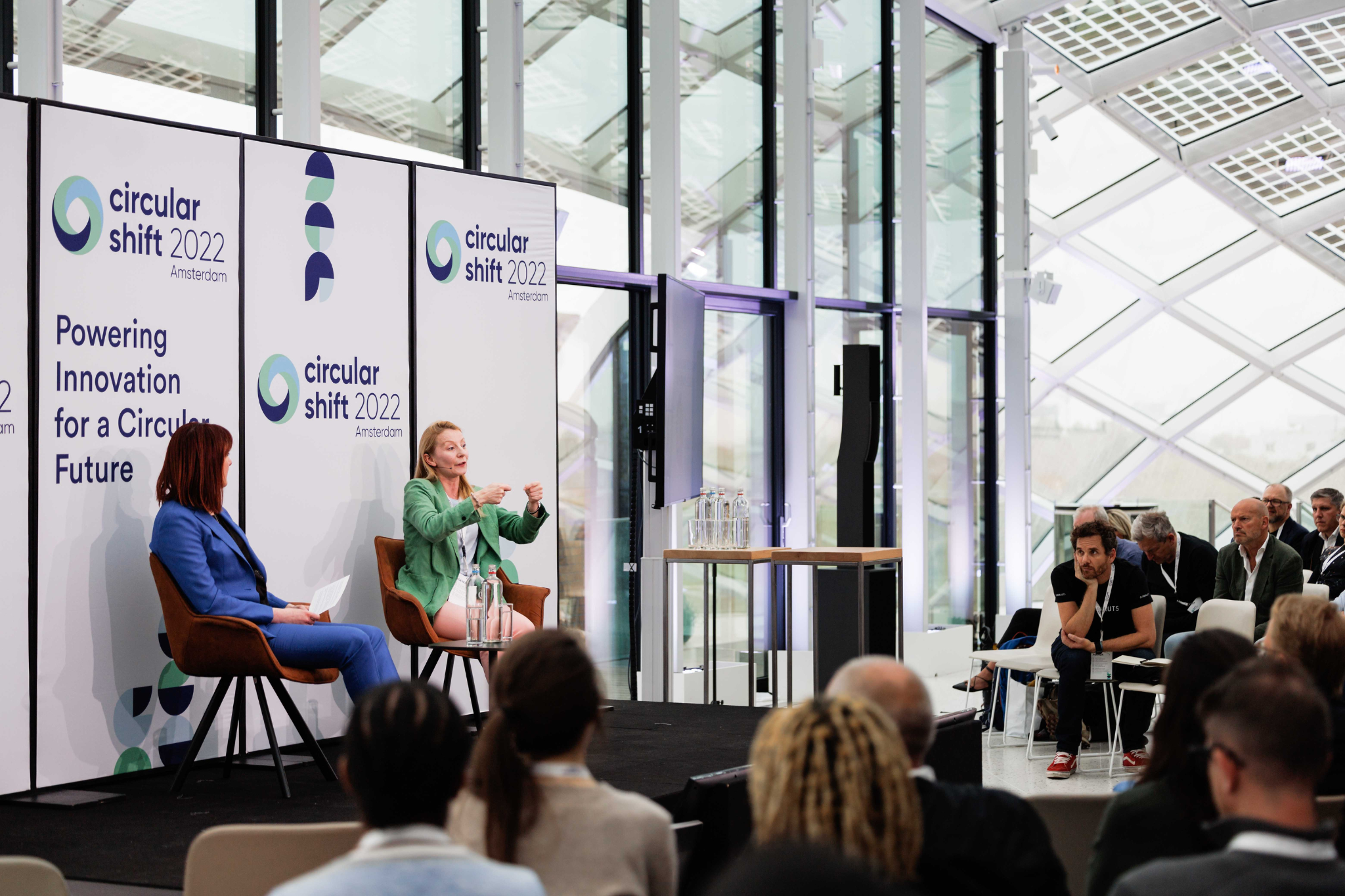 Expert panels
The panel conversation "Scaling a Circular Built Environment", with Christine Lemaitre, CEO at the German Sustainable Building Council (DGNB), Charles van Thiel, Director of Real Estate at GRESB, and Owen Zachariasse, Senior Director Work Dynamics at JLL, was facilitated by the Institute's Built Environment Lead, Ana Quintas. The conversation offered a lively debate around the themes of the European taxonomy, the role of standards and benchmarks, and the opportunities of embedding circularity in building specifications and ratings.
"Engaging Consumers in the Circular Shift" saw a panel conversation with Heather Barker, Global VP Regulatory & Group New Growth Platforms at Reckitt, Mads Kogsgaard Hansen, Senior Global Product Manager for Product Circularity & Recreated Classics at Bang & Olufsen and Alice Beyer Schuch, Product Manager for Circular Fashion at Bay City TextilhandelsGmbH.  Joel Makower, Chairman and Co-founder at the GreenBiz Group facilitated the candid discussion, which was centered on how consumer companies can drive the circular transformation and change consumer behaviors along the way.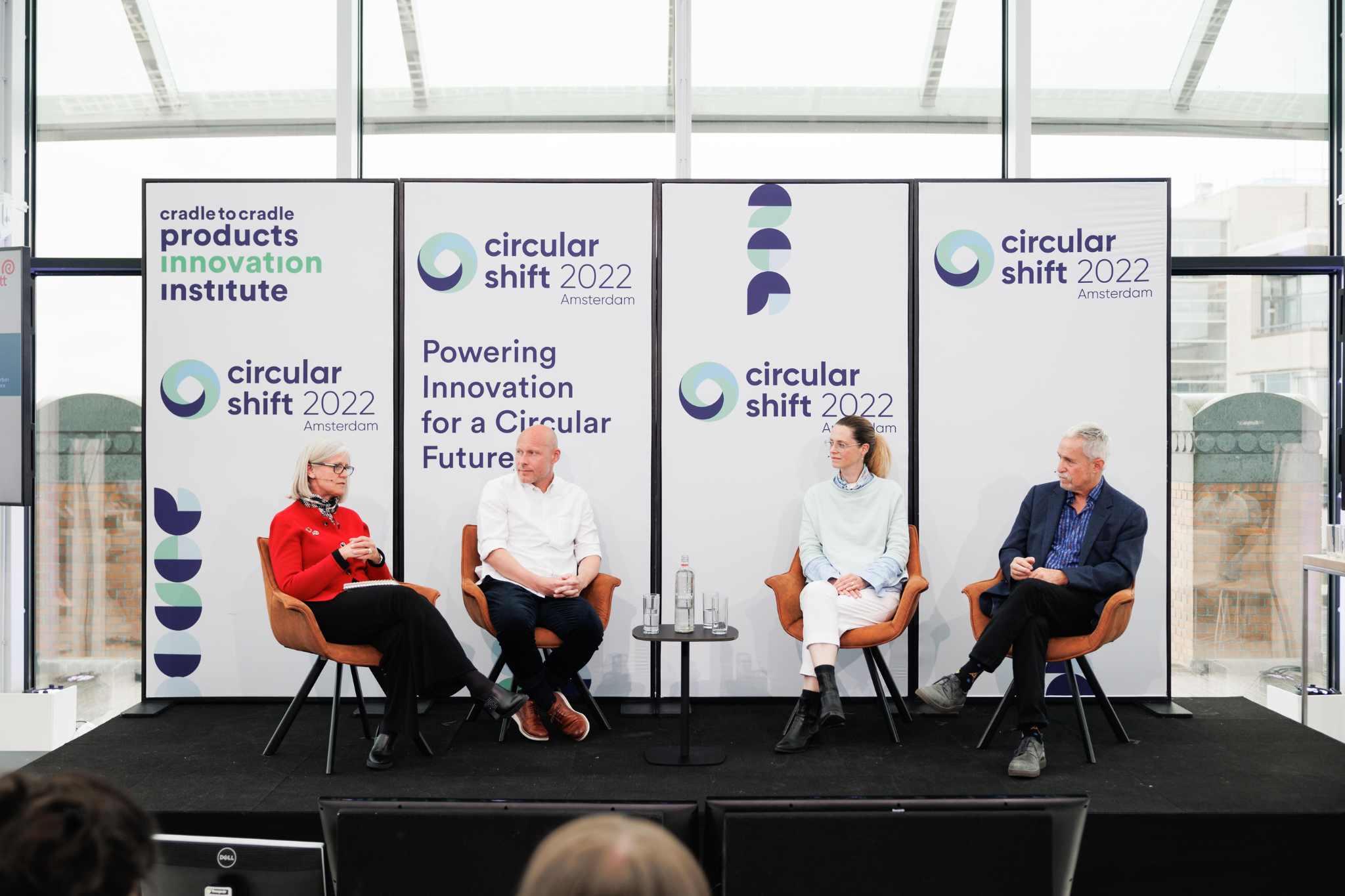 The third panel was dedicated to "Innovating products for a sustainable future" and welcomed as panelists Tina Snedker Kristensen, Head of Sustainability and Communications at Troldtekt,  Jean-Paul Jacobs, Vice President Marketing Europe, H&D division at Schneider Electric and Alberto Candiani, Owner, Candiani Denim, facilitated by Kari Herlevi, Project Director at Sitra. The discussions provided insights on how to foster an innovation mindset and use the Cradle to Cradle Certified framework as a tool for continuous improvements and for setting moonshot targets.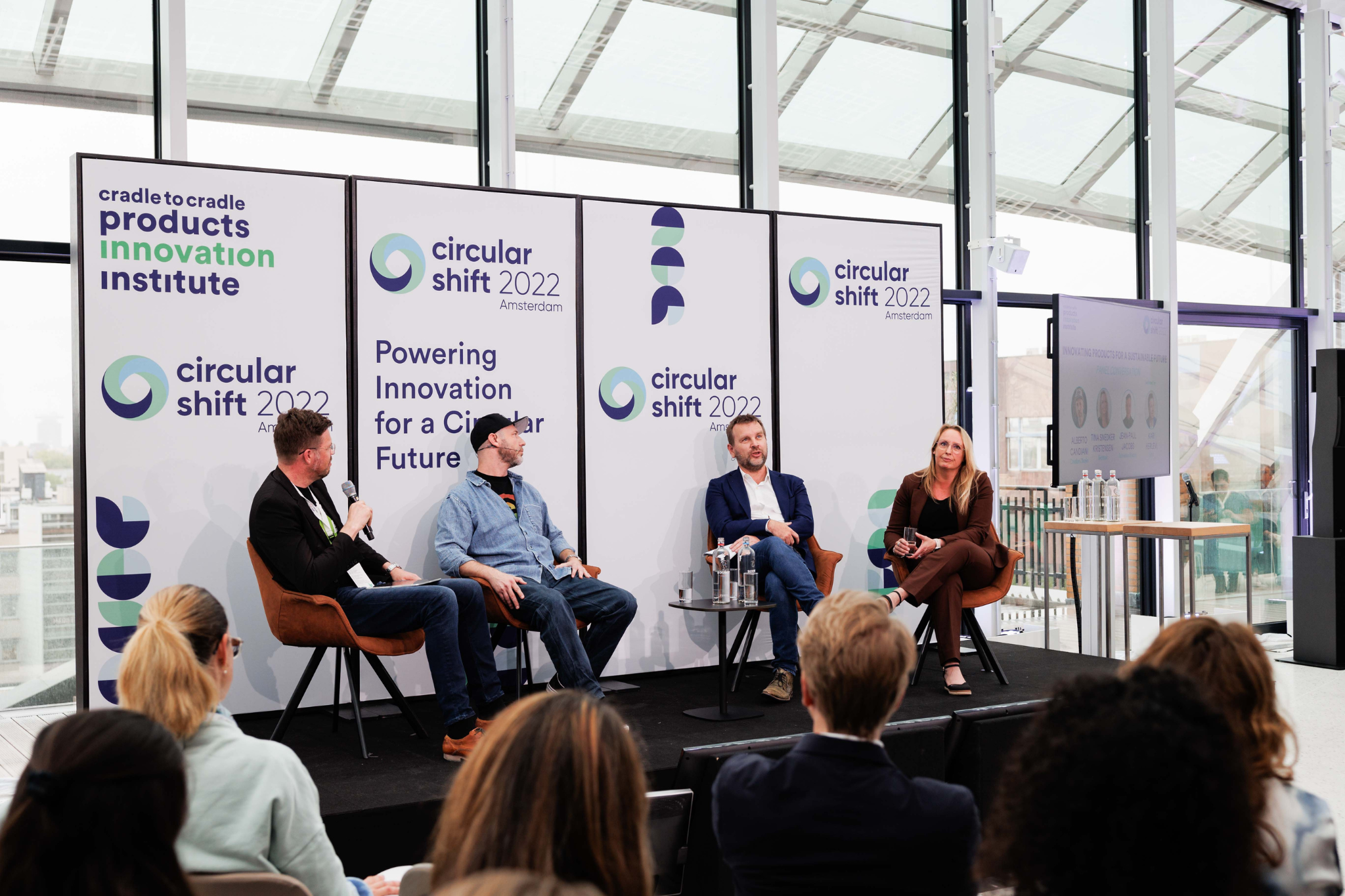 Dr. Christina Raab, President & CEO, Cradle to Cradle Products Innovation Institute, said: "Circular Shift has quickly become the go-to event for new thinking, latest accomplishments and leadership in action for a safe and just circular economy. I am immensely proud of the growing Cradle to Cradle Certified Community and our dedicated partners who boldly advance industry transformation and consistently demonstrate what businesses and society for a positive future look like."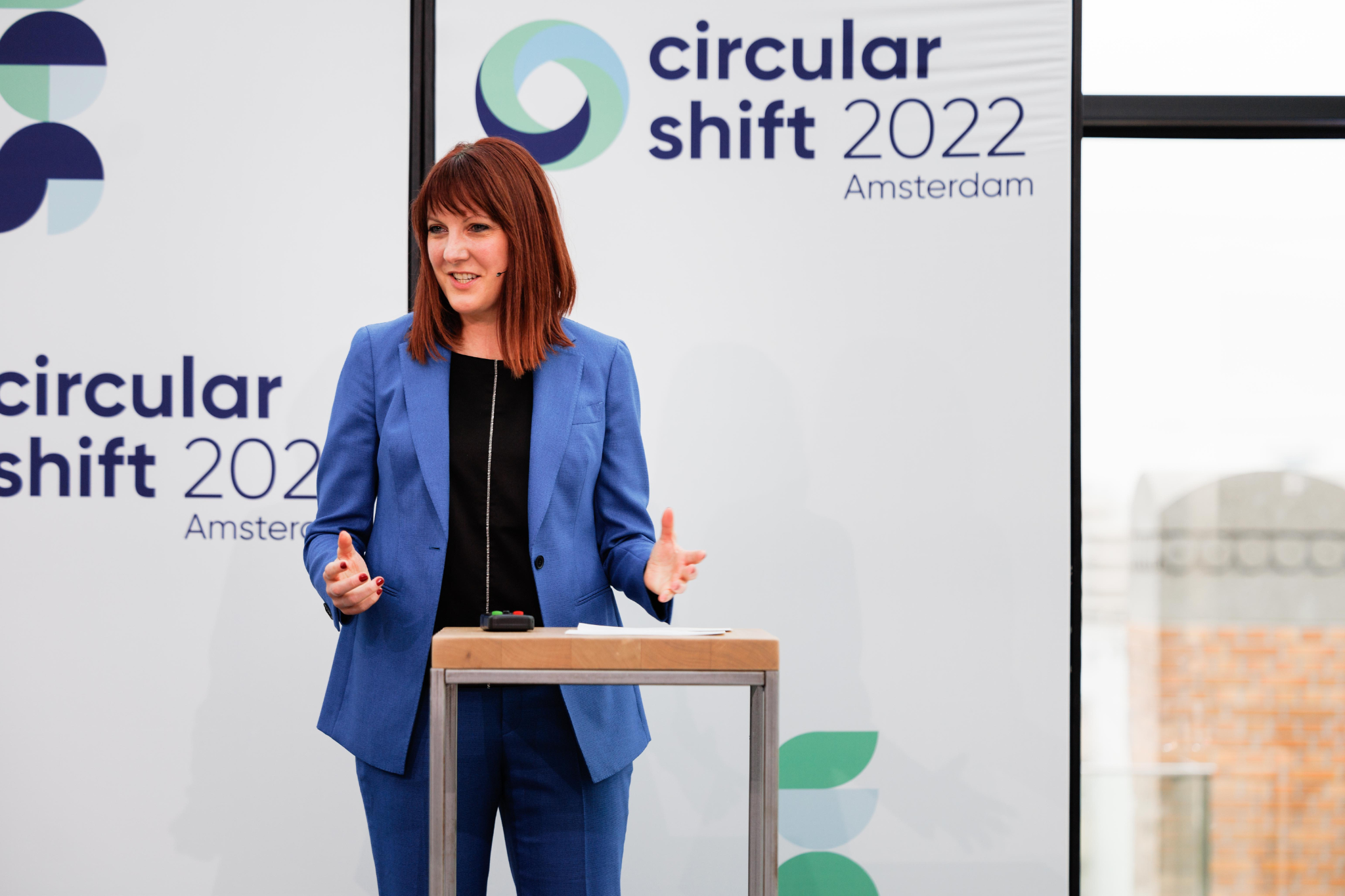 In-person networking
After two years online, Circular Shift has finally united the community again in person this year in Amsterdam. During the event, attendees heard and learned from a total of 18 speakers and had ample networking opportunities with international thought leaders and sustainability frontrunners.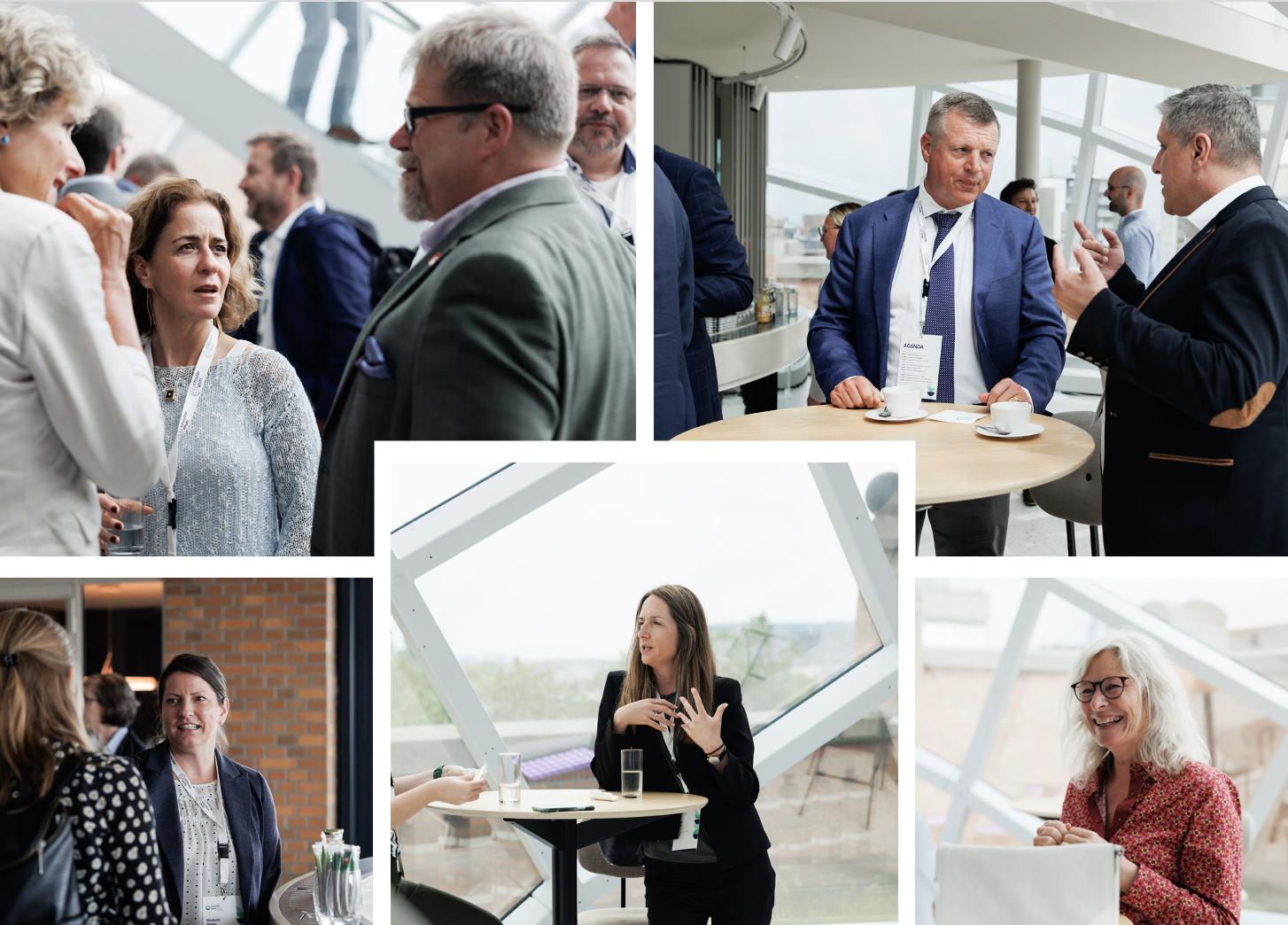 Circular Shift 2022 Amsterdam was generously sponsored by the global scientific consulting firm ToxServices. Find more about the Institute's summits and visit the event's photo gallery here.