Inside Bananatex®: the world's first technical fabric made from naturally grown Abacá banana plants.
100% made from plants cultivated in the Philippines within a natural ecosystem, Bananatex® was developed by Swiss bag brand and material innovators QWSTION in collaboration with Taiwan-based yarn specialists and weaving partners, united by the ambition to make a positive impact on the future of our planet.
This award-winning Cradle to Cradle Certified® Gold fabric is the outcome of a multi-year research, development and production process, resulting in a new material that answers questions of environmental, economic and social sustainability. As an open source project, Bananatex® offers a circular alternative to the synthetic fabrics that dominate the market today.
Sustainability
Cultivated in the Philippine highlands within a natural ecosystem of sustainable mixed agriculture and forestry, the naturally grown Abacá banana plant is sturdy and self-sufficient, requiring no pesticides, fertilizer or extra water. These qualities have allowed it to contribute to reforestation in areas of former Philippine jungle eroded by soil damage due to monocultural palm plantations, whilst enhancing biodiversity and the economic prosperity of its farmers.
Abacá fibres are extracted by boiling and then pressed into sheets (pulp sheets) in the Philippines. Followed by paper making and yarn spinning in Taiwan. The Natural White colourway yarn reflects the actual colour of the fibres and is accordingly not dyed. In the case of the All Black colourway, the yarn is coloured using the yarn dyeing method, which is more sustainable than the typical roll dyeing alternative, and certified to Oeko-Tex® Standard 100. 
For Bananatex®, contributing to a better planet begins with sourcing – guided by the available expertise in different locations, whilst keeping a low environmental footprint. Design and development begins at the brand's studio in Zurich, Switzerland, and the fabric is made across Asia.
Watch this video documentary which provides insights into the process and steps alongside the Bananatex® supply chain, showing how the company has structured its business for resilience and sustainability.
The Product 
Bananatex® is a strong and durable fabric, while remaining soft, lightweight and supple. An all-natural bio-based wax coating can be applied to make Bananatex® waterproof, giving it a smooth and distinctive handfeel. The fabric is available in different dyed versions, and also in a white undyed version.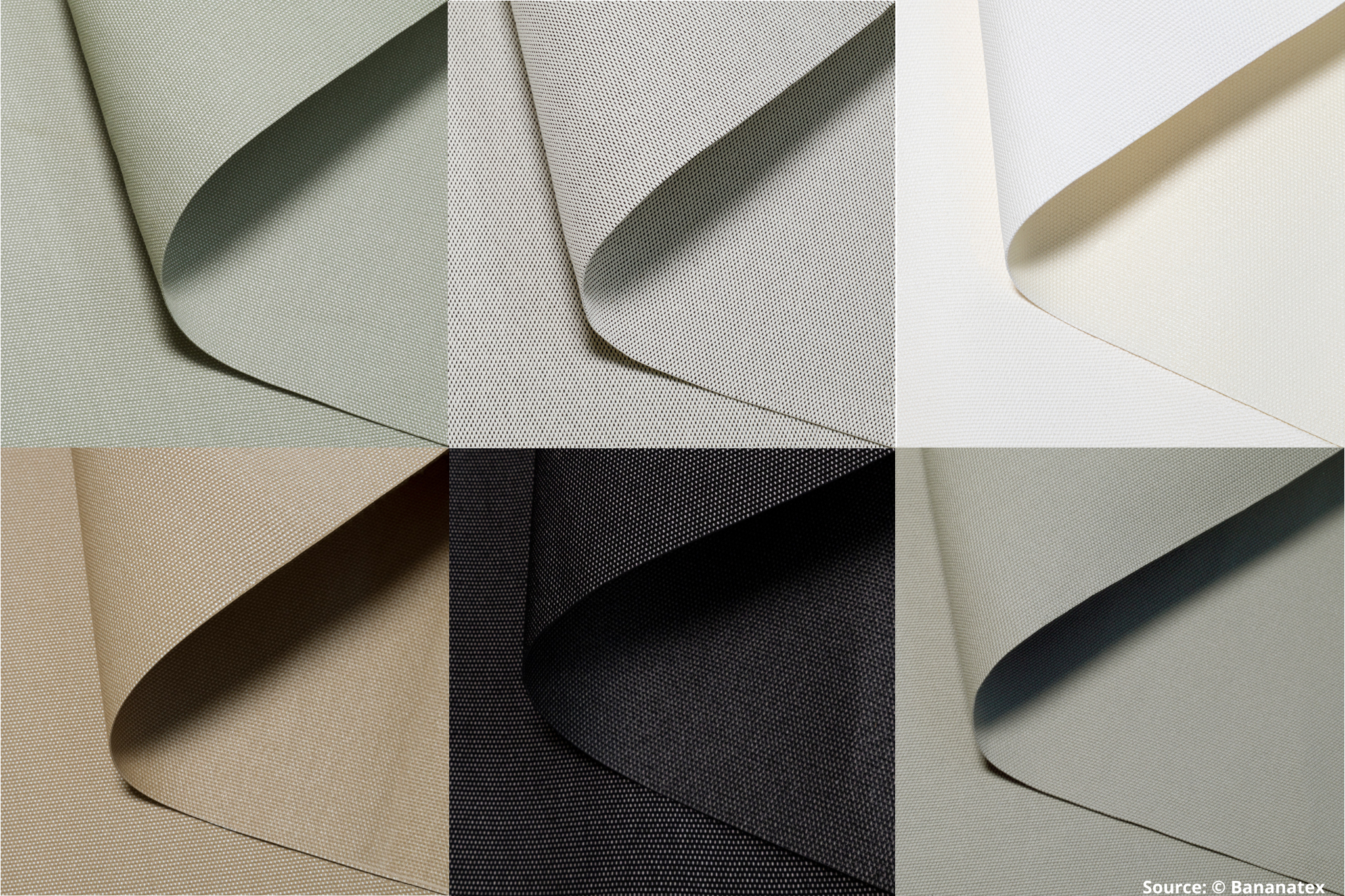 Besides QWSTION's own range of approximately 60 Bananatex® SKUs that include tote bags, backpacks, pouches and computer sleeves  (view here), a number of products using Bananatex® are also on the market from third party brands, ranging from furniture, to accessories, to fashion. Visit their showcase here.
A circular business model approach
The company has prepared the groundwork for a closed technical recycling and they take back Bananatex® bags that have reached end-of-life status. However, as the first bags were introduced in 2018, recycling volumes to date have not been significant due to the fact that the bags are still in their first user phase. 
As part of a closed technical cycle, the used products can be taken back into existing paper recycling methods, and new Bananatex® yarn can be made out of it. The company is also encouraging their partners to start introducing similar projects, in order to be fully circular. In this way, they can minimize waste and generate post-user value.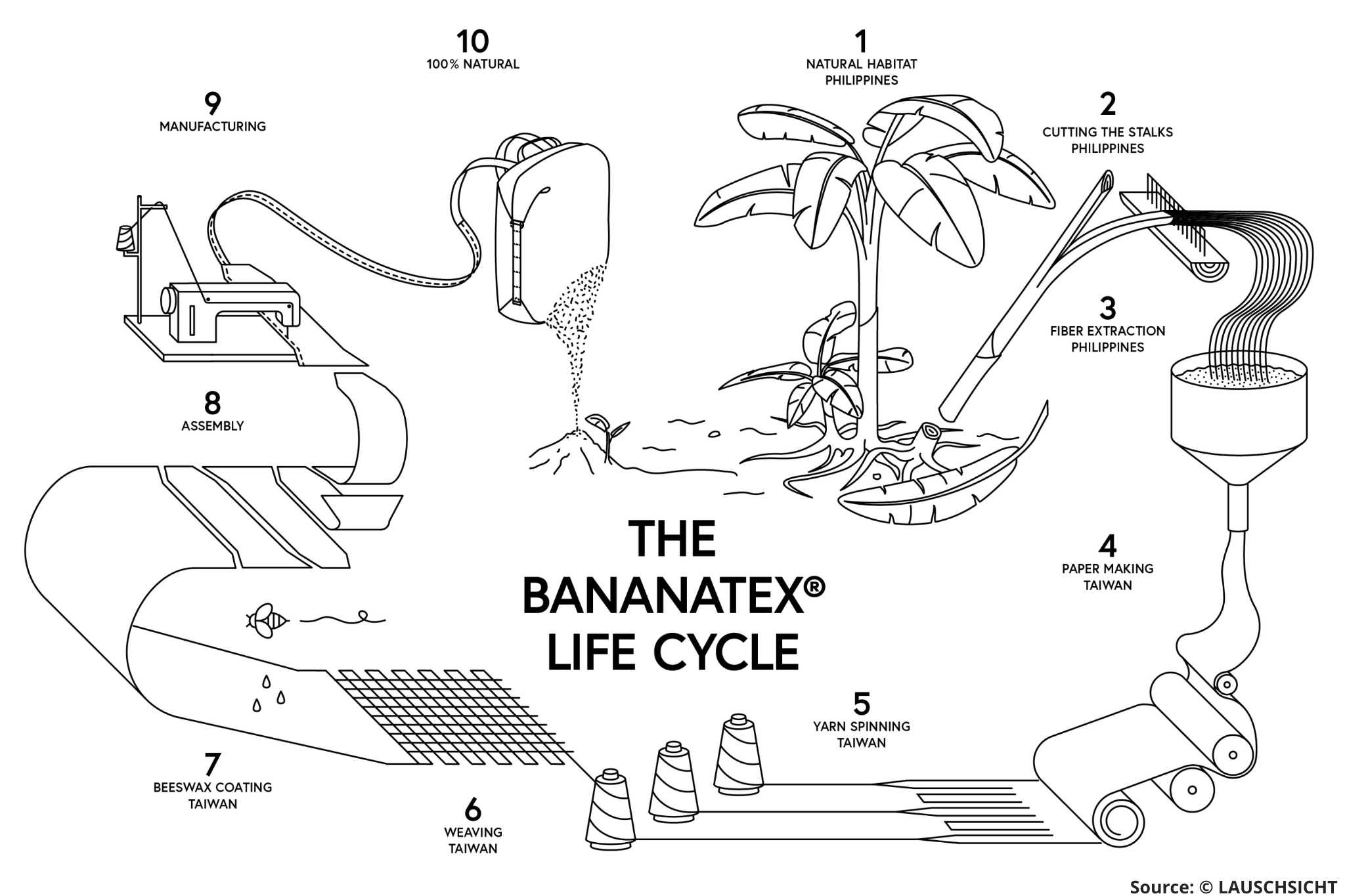 Bananatex® can also be decomposed in composting facilities or through usual kitchen compost. Moreover, a lab test (ISEGA, Germany) evaluating the biodegradability of Bananatex® for industrial composting and marine conditions was recently accomplished.
International recognitions
Since its launch in October 2018 Bananatex® has won a variety of international sustainability and design awards such as the Green Product Award 2019, the Design Prize Switzerland Award 2019/20 as well as the German Sustainability Award Design 2021.
The Bananatex® fabric achieved Cradle to Cradle Certified® Gold in December 2021 for a number of colours, including Natural White, All Black, Gravel, Asphalt and their respective durable water repellent (DWR) versions. This acknowledgment affirms Bananatex®'s commitment to protect the natural environment and support the communities the brand engages with.