Gerd von Podewils on how ADA Cosmetics drives sustainable change in the hotel industry
ADA Cosmetics is the first and only company in hotel cosmetics whose entire product portfolio is Cradle to Cradle Certified®. Having championed more responsible business practices from the outset through its innovative hotel dispenser systems which help avoid plastic waste, sustainability is an integral part of ADA's DNA.
To better demonstrate its commitment to responsible business, ADA Cosmetics first participated in the Cradle to Cradle Certified Products Program in 2018, with ADA products being awarded Cradle to Cradle Certified Bronze. As a result of the 2023 recertification process, all of the products in ADA's current portfolio were awarded the Cradle to Cradle Certified Silver status.
We spoke to Gerd von Podewils, Chief Marketing Officer at ADA Cosmetics, to find out how the company's focus on sustainable and responsible business practices has shaped its approach to product development over the years; why Cradle to Cradle Certified is an important reflection of this approach; and what Gerd sees as the biggest challenges for companies in the industry looking to follow suit and reduce their impacts.
What value does the Cradle to Cradle Certified certification bring to your business, in particular, the scaling of certification across all of your products?
The recertification of our products as C2C Certified this year, and the upgrade from Bronze to Silver status, proves that we are on the right track to accomplish our mission to be the sustainability leader in our industry. It has been always important to us to receive the recognition for our entire product portfolio, not just individual products, or lines for "window dressing".
Unlike many other certifications that focus on a single measure of sustainability, the Cradle to Cradle Certified Program comprehensively assesses all aspects of product design and manufacturing. This holistic approach encompasses not only the production processes but also factors in social fairness, ensuring that our operations align with ethical principles.
This brings significant added value to our business and the business of our customers, as their guests are increasingly demanding about environmental aspects – rightfully so! It is particularly important to us that this C2C Certified certification is based on a rigorous third-party evaluation to ensure its credibility.
Your key business principle is "Conscious choices, trip by trip". How does this inspire and guide your approach to circularity and sustainability?
We prioritize the environmental impact of our products, and this commitment is evident throughout our entire operations. It starts with the efforts of our chemists, process engineers, and safety experts in our laboratories, who work diligently to ensure that our products are developed in an environmentally conscious manner. We also focus on resource-efficient production processes and product design to further reduce our ecological footprint. To ensure high-quality, safe, and sustainable products, we develop, test, and optimize hundreds of formulations each year, following the Cradle to Cradle Certified principle.
We are proud to announce that ADA has pioneered within the industry again by publishing our 2020/21 Sustainability Report. Even though reporting on our environmental and social impacts will only become      mandatory as of 2024, we produced this report voluntarily to prove our commitment to transparency and corporate social responsibility. By choosing to share our data with external organizations and actively participating in certification processes like the Cradle Certified Products      Program, we gain valuable guidance that helps us identify the next progressive and reasonable steps on our sustainability journey. Our aim is to send a compelling message to our esteemed hotel customers and their guests: by collaborating with ADA, they can showcase their own unwavering dedication to implementing a robust sustainability strategy. It is a reinforcement of their commitment to guests who are increasingly focused on environmental responsibility.
How long has the concept of circularity been a component of ADA's business and how does this manifest in your strategy and business activities?
Our company almost unconsciously embedded sustainability as one of its core USPs from the beginning, back in 1979 when the business landscape was vastly different. Our founder, Andreas Dahlmeyer not only invented branded hotel amenities by putting hotel names on the small soaps, but also quickly realized that small plastic portions were inconvenient to use and created massive amounts of waste.
That's why he invented the first patented hotel dispenser system "press + wash", which was launched in 1990 and is still in use today. This had been the beginning, followed by several upgrades and new, innovative dispenser systems. ADA's SmartCare system was launched in 2012 and with its 2023 upgrade it is still the world's most hygienic system.
The SmartCare dispenser system embraces the idea of circularity because it consists of mono-material (PP) which maximizes the potential for recycling and reusing the plastic chips to produce new bottles.    
We are constantly striving to implement the concept of using less and creating circular solutions. The bottles of our pump dispenser systems, for example, are made from PCR plastic (PET), in many cases up to 100%.
Further, we are making these systems refillable to produce even less plastic. In this spirit we are running a pilot project with a glass dispenser system, ensuring that we mitigate any risks to guest safety due to breakage. We are also assessing how long the refillable glass dispensers last to determine if the benefits outweigh the increased CO2 footprint of transportation and recycling (compared to that of plastic). This pilot project is just one reflection of our constant journey at ADA to improve the ecological footprint of our products and our company. It also demonstrates how we were ahead of the curve when we first patented the system: today, the discontinuation of small portions is accelerating, and the US states of California and New York have legally banned all small portions. 
ADA's sustainability motto is: "Leave intact resources behind for future generations." Can you explain how you put this into practice throughout your business?
First of all, we invest in cutting-edge systems that prioritize energy efficiency and low emissions. One example is our utilization of a cold process for the manufacturing of all rinse-off products like shampoo, shower gel, and hand wash. This process significantly reduces the energy usage by 40 percent. We also decreased our carbon footprint by switching to bio instead of fossil gas.
Further, we implemented advanced processes and technologies to minimize water usage throughout our entire production operations. Our company adheres to the rigorous guidelines outlined in the German Water Resources Act, which emphasizes the preservation of groundwater resources. Groundwater plays a crucial role in the water cycle and is vital for maintaining diverse natural ecosystems. Even when our cosmetics eventually enter wastewater systems after use, we want to minimize any potential impact on water quality.
Finally, we evaluate the recyclability of materials, and we give priority to ingredients that can be sourced as close as possible to the place of production, keeping transport-related emissions low. These are only a few examples; you can find many more in our recently published Sustainability Report.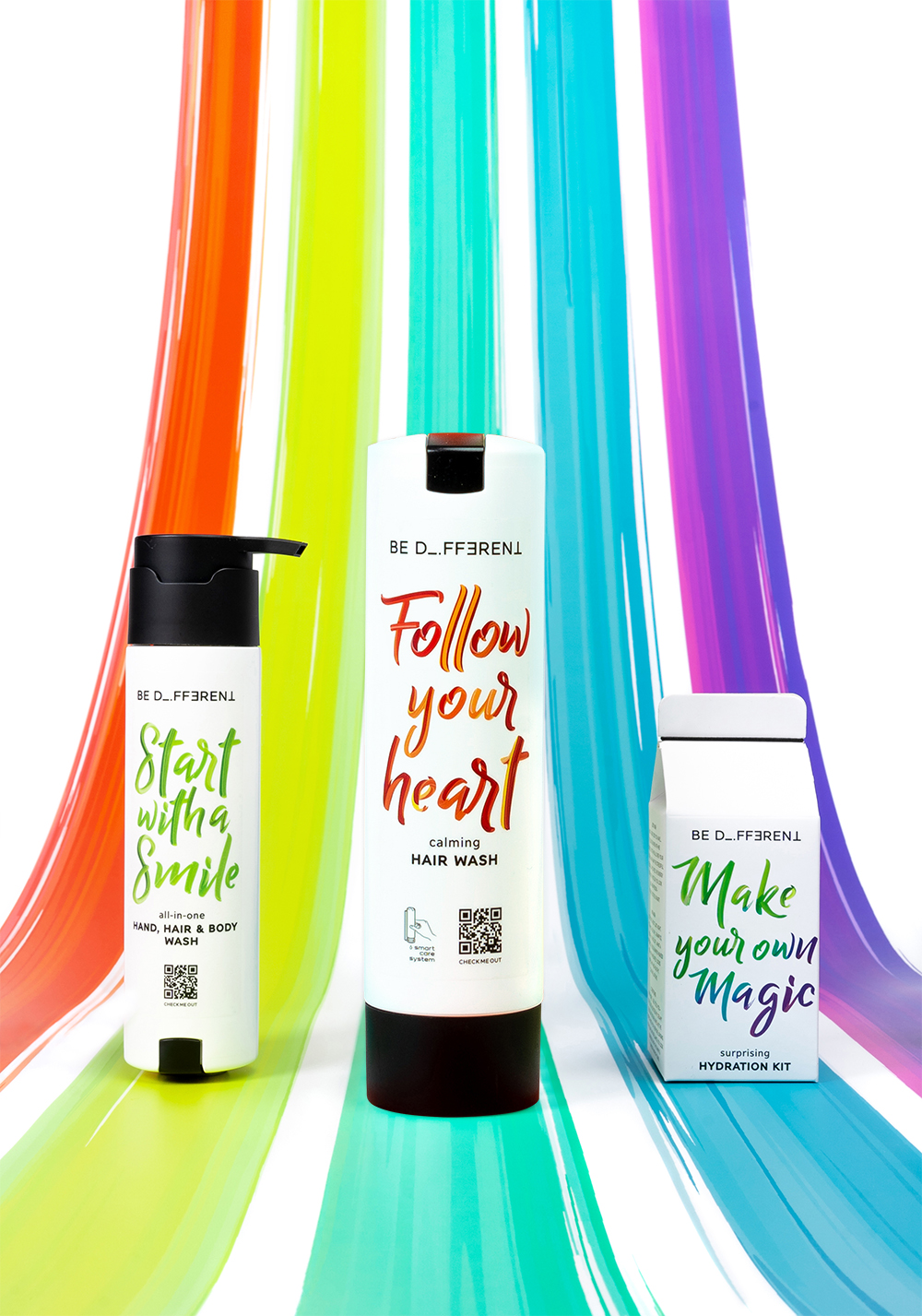 Two of the five categories of the Cradle to Cradle Certified Product Standard which we haven't yet discussed are Material Health and Social Fairness. How does ADA contribute to these categories?
Our overarching goal is to utilize resources in a conscious manner. To mention a few examples: our entire product portfolio is vegan, skin-pH neutral, and dermatologically tested. None of our formulas contain microplastics in the form of microbeads or any concerning ingredients such as parabens, silicones, formaldehyde donors, or Isothiazolinones.
Instead, we use state-of-the-art raw materials with a high natural origin index which are harmless for our clients and the environment at the same time. By the end of 2023, all our formulas will be entirely free from benzophenone-based UV filters and liquid microplastics.
Regarding our social responsibility: we have more than 600 people working for us in 16 locations around the world. It is of utmost importance for us to follow and comply with international agreements and standards regarding the respect for human and workers' rights. We absolutely prioritize the establishment of fair and appealing working conditions throughout our entire supply chain and condemn practices such as child labor, corruption, and modern slavery.
Of course, we also strictly reject any kind of animal cruelty. We adhere to the EU regulation that prohibits animal testing, and we additionally require our suppliers to refrain from animal testing. To take concrete action, we conducted a comprehensive human rights risk assessment focused on the countries where we produce, including our own production sites and Tier 1 suppliers. The primary objective of this assessment was to identify and highlight any potential risks we might encounter. Subsequently, we developed an action plan to effectively mitigate these risks.
You mention in your 2022 sustainability report that "We are convinced that, together with our partners, we can make the accommodation industry and thus travel more sustainable." Do you have any examples of how your actions are influencing the industry in general, or even individual guests?
We believe our products have a significant impact on the hotel industry's sustainability efforts, both at a broader level and on individual guests. We have taken the lead by introducing the first dispensers in the market, gradually moving away from small bottles. As a result, this has become a category standard.
Also, we demonstrated our commitment to sustainability by publishing the hotel cosmetic industry's first-ever Sustainability Report in June 2023. By leading the way in openly sharing our progress, challenges, and areas for improvement, we are sure that others will be inspired, if not forced, to follow suit. It also allows all of our stakeholders to gain a comprehensive understanding of our sustainability initiatives, fostering greater levels of trust and accountability.
ADA Cosmetics is the first and only company in hotel cosmetics to have C2C Certified Products. What's more, your entire portfolio is certified. What do you see as the biggest challenges or barriers for other companies in the industry looking to reduce their impact?
There are several factors contributing to this situation. First, the absence of a current legal requirement, which is expected for 2024. Second, the process of gathering data and enhancing procedures demands valuable resources, which numerous companies prefer to preserve. Lastly, a considerable number of companies were perhaps overly optimistic about their impacts, making aspirational claims about the sustainability of their business practices without fully considering every aspect. Therefore, adopting rigorous sustainability measures now (and publishing this information) may make them susceptible to greenwashing accusations, even if their initial intentions were good.
Every company, every business, must define their own approach and principles. We at ADA are committed to constantly rethinking and challenging the status-quo as there is no other way for the future − the hotel industry benefits from the human desire to discover the world, to go on journeys. This only works in a healthy, sustainable world.
What are ADA's circularity and sustainability targets for the future?
We have already come a long way and we know this will be an ongoing journey. Measures and KPIs will change, and new technologies will become available and thus, the strive to improve in sustainability needs to continue being an integral part of ADA's DNA.
By the end of 2026, we will have reduced our emissions (scope 1 & 2) by 35%. We are evaluating the recyclability of materials and strive to maximize the recycled materials in our packaging by using PCR, rPP (recycled Polypropylene), rHDPE (recycled High Density Polytethylene) and rPET (Polyethyleneterephthalate) plastic.
PCR stands for "post-consumer recycled" because it is derived from households, industrial, and institutional waste. Using PCR plastic depends on its availability in food grade quality though, which ADA mandates as the standard for all PCR-containing products to guarantee the health and safety of our hotel guests − this has the highest priority for us. Whilst rPP and rPE are still scarcely available in food grade quality, we implemented rPET for almost all our pump dispenser systems. It requires a "design sustainability in" approach because PCR plastic comes with different characteristics in terms of stability and design flexibility.
What's your advice to companies that are just starting out on the Cradle to Cradle Certified journey?
Go on…you have made the right choice! This certification will not only enhance your sustainability performance but also contribute to the overall improvement of the industry.
Embracing Cradle to Cradle Certified principles is a commitment to continuous improvement and driving positive change in your business practices. This is not a one-time endeavor but a continuous process of growth and refinement. Embrace the journey with dedication and an open mindset, leveraging the guidance and resources available. Let's create a better future for the industry and provide safer, more sustainable products as there is no second planet available to us and the next generations.