Building tomorrow's legacy today: Universidad Ean's Center for Technology & Entrepreneurship
Universidad Ean in Bogotá, Colombia has been a disruptor since its inception 64 years ago, when a group of five professionals decided to create a business school that promoted training focused on entrepreneurship at a time when most other educational institutions in Colombia focused on training for employment.
50 years later, the university's bet on sustainability as a fundamental part of training and entrepreneurship has led to Project Legacy, a groundbreaking redevelopment project that demonstrates Cradle to Cradle design and circular economy principles via physical design and construction practices, community engagement, and curriculum. 
In other words, according to José Alejandro Martínez S., professor and researcher in circular economy at Universidad Ean, "Ean's Project Legacy is part of the framework and fabric of our institution as we seek to promote and serve as an example of the highest sustainability standards, motivating the advancement of different innovations, products, services and social sectors." 
Rooted in an early initiative to redevelop property acquired by Ean near the financial center of Bogotá, the project's central location afforded the perfect opportunity to realize the school's vision for a Center for Technology and Entrepreneurship built to reflect the principles and values embodied by the school's curriculum, including sustainability and social impact.
Following a first phase of the redevelopment by Colombian architects based on the principles of bio architecture (which gave rise to the Founders Building), Ean's project team -- which had evolved into a small sustainability think tank - asked themselves how the positive environmental and social impacts of the second phase building might be expanded significantly. 
It was a question that led to an even bigger, bolder vision: to create an academic building that would serve as a model for the city of Bogota and for the country by applying the principles of Cradle to Cradle design and the circular economy not only to the building's planning, design, construction and operation -- but also to the initiatives, programs and services it provided to students, the business community, and the community at large.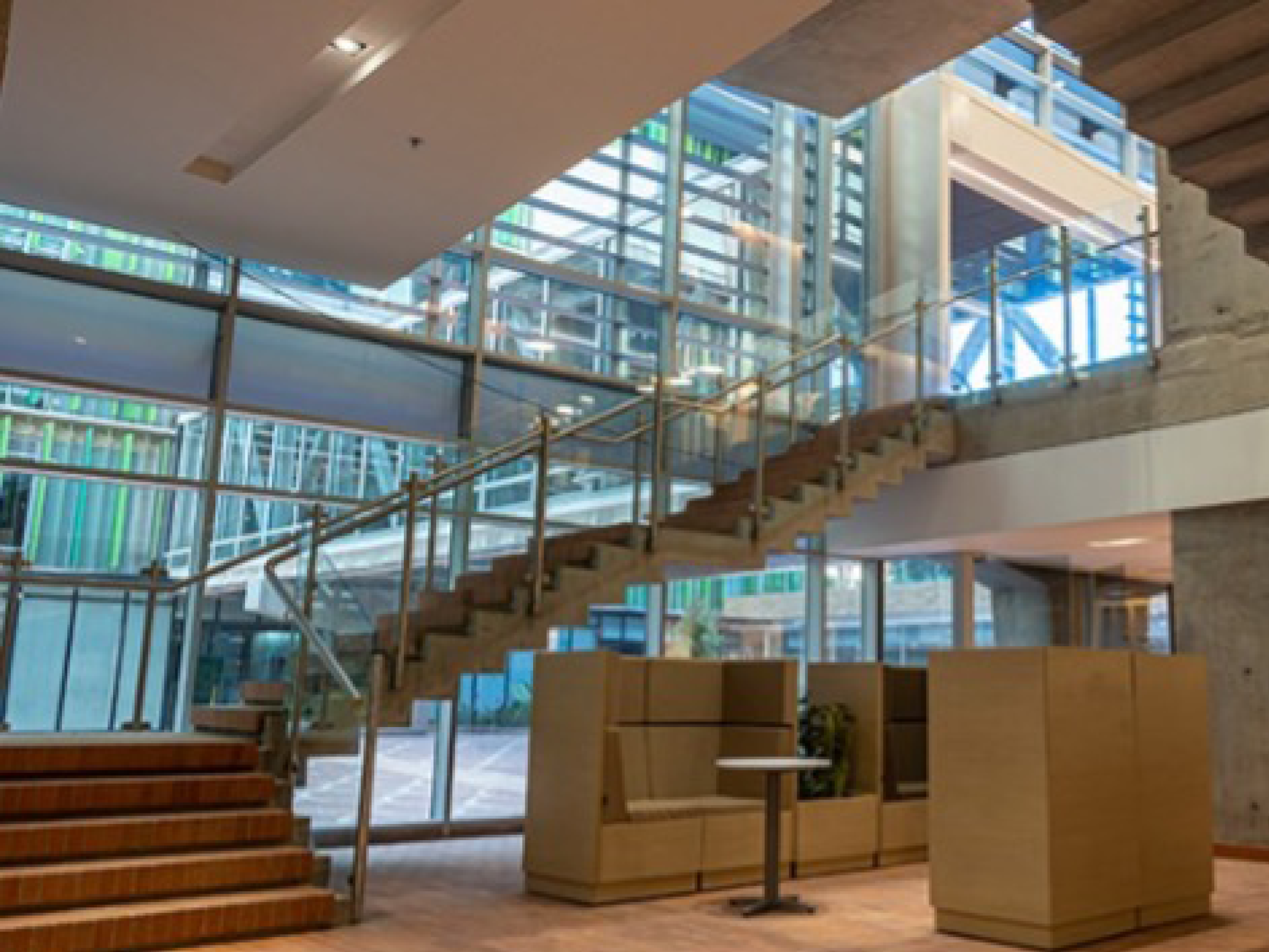 About the Center
Universidad Ean's new Center for Technology and Entrepreneurship brings together the university's existing institute for sustainable entrepreneurship and technological programs with new technological facilities and infrastructure, including virtual reality laboratories, and new systems and programming laboratories. With so many resources under one roof, the new center makes it possible for all current undergraduate, graduate, and continuing education programs at Ean University to access an even wider array of tools and resources for innovation and learning.
The Center's resources will also better connect the university with the Colombian business community, serving the needs of society and helping to drive nature- and circular economy-based local solutions to global problems. For instance, the Ean Impacta business incubation program is already leveraging the new center's resources to generate more interaction between university entrepreneurs and more business model ideation based on sustainability, circularity, and social impact.
Putting Principles into Practice
When it came to sourcing and fulfilling the design and construction requirements for the building (designed by Cradle to Cradle co-founder William McDonough), Ean faced another challenge: finding suppliers to provide circular materials at a time in Colombia when sustainability and circular economy were brand new concepts. 
While the original vision included the aim of using mostly Cradle to Cradle Certified products and materials, practical reality made a whole supplier development process a more immediate priority. Starting from scratch, the team educated and engaged interested suppliers in the assessment of raw materials, life cycle analyses, and the principles of Cradle to Cradle Certified certification and circular economy.
The process generated a whole ecosystem of large, medium, and small suppliers ready and able to supply specific inputs for the building -- all the way down to screws and nails provided by neighborhood stores. In this way, the issue of inventories and limited space for the construction process was intelligently handled -- and value was shared across different companies nationwide.
Project Highlights 
Name: Project Legacy Building, Universidad Ean 
Location: Bogota, Colombia
Scope: 20,000 m2 resource center designed to serve 9,000 students, plus employees and general public 
More than 99% construction and demolition waste cycled and upcycled before construction phase
Upcycling of window frames from the original building for the Home Heat project, which provided favorable living conditions for more than 15 families in the Monquetiva village of the Guatavita municipality two hours from Bogotá. 

Cradle to Cradle Certified certification (2018) for the domus line of the ACEMAR company for acoustic design of large and small auditoriums (500- and 120-person capacity)

Cradle to Cradle Certified certification (2019) for ACEMAR Company's auditorium furniture Supreme line.

Use of the Wonderframe facade designed to manage the building's response to wind, thermal and light fluctuations - the result of research and collaboration with Colombian professionals and companies like Hunter Douglas Colombia.

Consolidation of an automated and sensorized greenhouse in the Founders Building to supply part of the vegetable requirements for the dining room in the Legacy building and, in turn, to complete the cycle by managing organic waste from food preparation.

Strict management during the construction phase of water use, electricity, recycled aggregate in concrete, excavation material, in situ preparation of metal structures to avoid waste, landscape management and even street cleaning to avoid the discomfort of neighbors, and the engagement of local artists to paint the building enclosure.
Legacy Lessons Learned
The Project Legacy journey isn't simply a model for students, the Bogotá community, and the people of Colombia. Alejandro Martínez also hopes lessons from the journey will help other academic institutions and organizations looking to develop buildings that demonstrate and integrate the principles and practices of sustainability, Cradle to Cradle Certified and the circular economy into real world, real time practice. 
"Through Project Legacy we have demonstrated that a 20,000 m2 building with the best sustainability features can often be built at a lower unit price per m2 than a conventional building," says Alejandro Martínez. "We have also learned some important lessons that can help others as they embark on similar projects."
"First, have a vision, and don't be afraid of big, challenging projects," Professor Martínez says. "Think about creating reasons for making the future better -- and how you can work together to go faster towards that vision as a society." 
Finally, "in order to grow, you must not stop asking for help" from collaborators, partners, suppliers, your community, and other stakeholders. "When people work shoulder to shoulder to make tomorrow better, that's when great things happen."