Conscient Carpet Tiles with PA6.10 bio yarn and CQuest™Bio
Interface Europe Manufacturing BV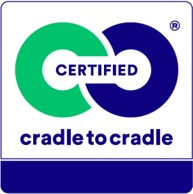 Gold
| | |
| --- | --- |
| Certification Number | 4703 |
| Valid until: | 14 Jan, 2024 |
Product Description
PA6.10 Solution Dyed Modular carpet tile designed for heavy commercial use. This product features CQuest™Bio and PA6.10 yarn. The product is designed to achieve lighter weight and very low VOC emissions.
This certificate covers the following products:
Conscient Carpet Tiles with CQuest™Bio (in all colours): 4195001 TRACE, 4195002 FACTOR, 4195003 EMISSION, 4195004 REFINED, 4195005 ELEMENT, 4195006 FRAGMENT
Interface Water Use:
2019* Withdrawal: 55.659.459 L; Consumption: 28.809.598 L; Discharges**: 22.277.534 L
2020* Withdrawal: 45.083.861 L; Consumption: 23.118.154 L; Discharges**: 18.962.549 L
The water intake volume at manufacturing sites is for both process and non-process uses, including water for manufacturing, administration buildings, customer support facilities, and warehouses.
* Including facilities that manufacture nora
** Disclaimer: Discharge numbers are not available for all facilities. The figures provided are (for some of the facilities) a difference between the withdrawal of water and water consumption. These figures are therefore partly an assumption.
Other products in this category